Leon Bosch reviews the first two publications in a project to create urtexts of all the Italian composer's works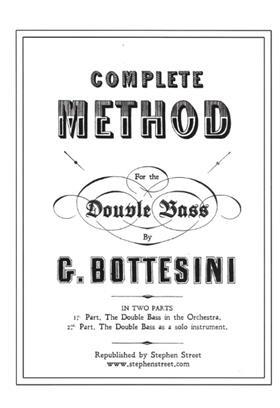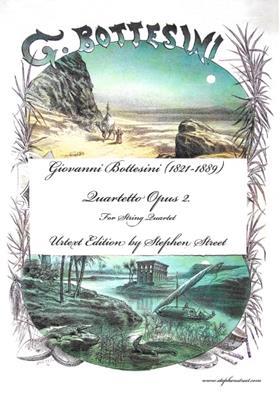 Giovanni Bottesini Complete Method for the Double Bass
Ed. Stephen Street
137PP ISBN 9781999866457 £11.99
Bottesini String Quartet op. 2
Ed. Stephen Street
85PP (score) 21pp (parts)
ISMN 9790900299604 £21 (score and parts)
www.stephenstreet.com
In addition to his extraordinary accomplishments as a double bass virtuoso and conductor, Giovanni Bottesini is also credited with nearly 300 compositions, encompassing opera, oratorio, chamber music and instrumental music, much of it for the double bass. That there has never been any meaningful attempt to catalogue or publish Bottesini's output is surprising, but the double bassist Stephen Street, perturbed by evident discrepancies in many current editions, notably in the music for double bass, has embarked on the ambitious project of cataloguing and publishing an urtext edition of Bottesini's complete works. Fittingly, this monumental quest begins with Bottesini's Complete Method for the Double Bass, which is then followed by the String Quartet op.2.
Double bassists worldwide will be familiar with Bottesini's method through the Yorke Edition version, published as two separate volumes of graded exercises without commentary. This new urtext edition presents the method as originally intended, complete with Bottesini's forthright text, idiomatically translated into English by John F. Clayton. The convincing facsimile reprint effectively retains the charm of the 1872 original, with every single page of that first version painstakingly photographed and digitally enhanced. It is also available in French and Italian.
In a succinct preface, Bottesini sets out the guiding principles of his method: 'Truth for science; Beauty for art; Usefulness for the pupil.' He then divides his method into two distinct parts: The Contre Basse in the Orchestra, and The Second Part, The Contre Basse as a Solo Instrument. He is at pains to provide the aspiring bassist with a comprehensive technical, musical and philosophical foundation, and each carefully chosen word and meticulously crafted etude is dedicated to the holistic musical education of the double bassist as artist.
With this publication, the double bass world can once again properly benefit from the wisdom and secrets of one of the greatest virtuosos of all time, and diligent students who persevere to the end of Part Two are rewarded with a special treat of a handful of Bottesini's own compositions: Elegy, Four Arias and his Carnival of Venice variations.
The edition of Bottesini's effervescent String Quartet in B flat major op.2 comes in two parts and is just as meticulously presented. The full score begins with a facsimile of Bottesini's manuscript and is followed by a beautifully typeset copy of the score in the new 'Stephen Street Urtext Edition' font. The quirky yet thought-provoking cover is a reproduction of artwork originally used by Bottesini himself for his opera Ali Babà. The set of parts benefits from the practical experience of a performing musician. The almost austere black on white contrast enhances legibility, and page turns are well judged.
Bottesini is credited with six string quartets, one of which won the Basevi Competition in Florence, and five string quintets. One includes the double bass, and their publication is eagerly awaited.
All in all, Stephen Street's mammoth urtext project is off to a promising start, and is appropriately launched in 2021, the bicentenary of Bottesini's birth.
LEON BOSCH