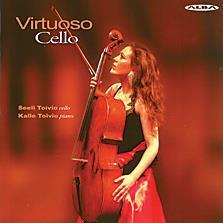 The Strad Issue: January 2012
Description: A disappointing recital of violin showpieces transferred to cello
Musicians: Seeli Toivio (cello) Kalle Toivio (Piano)
Composer: Paganini, Brahms, Sarasate, Wieniawski, Monti, Bazzini
There is every reason for cellists to look towards the violin repertoire as a means of expanding their musical horizons, but some judgement needs to go into the choice: does the music sound idiomatic, or is the figuration a couple of notches too intricate? Half of the pieces in Finnish cellist Seeli Toivio's selection are tried and tested, and transfer naturally to the cello. There are quite a few discs of Brahms's Hungarian Dances arranged by Piatti, and they are without question very effective; equally, the Monti and Paganini (the latter arranged by Gendron) are successful showpieces.
The Wieniawski Scherzo–tarantelle, however, sounds a struggle in Toivio's hands, not so much because she doesn't accurately deal with the notes – she does – but because the cello sound is so thin. Likewise the Bazzini, although published in a version for cello, here presents a dismal 'also ran' to violin performances, where the stronger tones lend greater panache to the invention. Moreover, Toivio's cello is partnered by a clunky piano sound from her brother, and the unsophisticated recording reinforces the laborious result of this conquest.
A similar problem affects Sarasate's pieces. Their accessible technical challenges reap reasonable results, but with the more hazardous adventures into violin showpieces the effect, unfortunately, is to send one rushing back to the originals.
Joanne Talbot