José Manuel Jiménez García posted photos of the incident on his Facebook page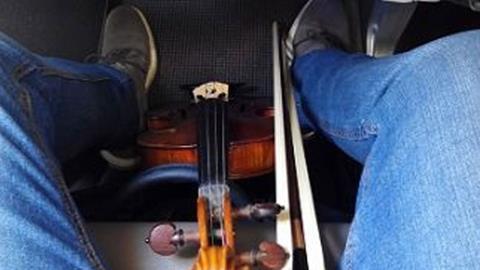 Young violinist José Manuel Jiménez García was forced to store his unprotected instrument between his legs and at his feet on a recent Vueling Airlines flight.
According to the musician, the low cost Spanish carrier, owned by International Airlines Group, refused to store his instrument in the overhead cabin. Vueling baggage guidelines do state that musical instruments must be checked into the hold unless buying an extra seat. However, fellow IAG stablemate Iberia's guidelines allow instruments up to the size of a guitar in the cabin.
García published pictures of the incident on his Facebook page, along with the following explanation:
'This is how my violin travelled thanks to the understanding and effectiveness of Vueling Airlines. The only solution was the one that I myself offered. It's a shame that a flight operated alongside Iberia, which clearly specifies the maximum [dimension for instruments in the hold] as the size of a guitar [would not accept my instrument]. My 'guitar' (as the efficient stewardess called it) was no larger than those measurements. These situations are common for musicians, unfortunately. In this type of situation there is little (null) support for the culture in this country. Impotence, rage. My guitar and I are going to issue a complaint as soon as I arrive in Spain. Thank you again, Vueling.'
In June of this year Dutch–Italian violinist Cecilia Bernardini was forced to remove her 18th-century instrument from its case and carry it on her lap on a British Airways flight when staff refused to allow the case in the cabin.
Read: American Airlines pilot denies Rachel Barton Pine access to cabin with her violin
Read: Time For Three violinists denied access to US Airways flight with instruments