Cincinnati CCM student claims damage was sustained on instrument in hold despite outer flight case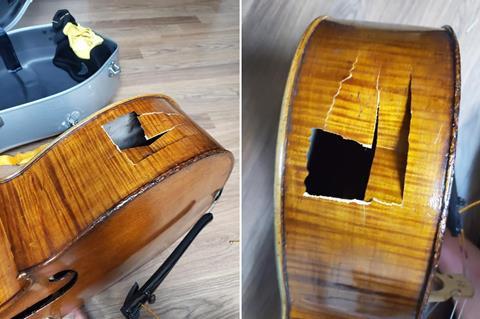 Hojoon Choi, a student at the University of Cincinnati's College-Conservatory of Music, has posted these photos of damage to his instrument he discovered following a flight with Delta Airlines from the US to Korea.
The 1840 W.E. Hill cello has suffered significant lower rib cracks, including one section breaking off entirely. This is despite it being in a light hardshell case inside a padded and insulated BAM flight case.
He wrote on the 'Internet Cello Society' Facebook group that he has been quoted a 'worst case scenario' repair cost of around $8,000.
Choi also discovered that he had allowed his insurance to lapse, so he is considering selling three bows to cover the restoration while he waits to hear from Delta regarding compensation.
Delta's regulations state an International Liability Limit of $9.07 per lb. of weight or up to $640 per bag unless excess value has been declared (for a fee), and even then only up to a limit of $5,000.