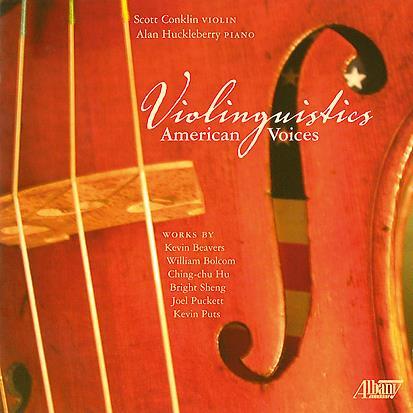 THE STRAD RECOMMENDS
The Strad Issue: January 2010
Musicians: Scott Conklin (violin) Alan Huckleberry (piano)
Composer: Beavers, Bolcom, Ching-chu Hu, Bright Sheng, Puckett, Puts
Scott Conklin's brilliance of tone and charismatic delivery bring a burnished gleam to this disc of American music from the last 30 years. Stylistically it wanders through jazz, Bluegrass, ragtime, and there's even inspiration from Chinese folk melody in Bright Sheng's The Stream Flows, but Conklin and pianist Alan Huckleberry tackle each work with interpretative eloquence, extreme technical precision and an infectious brio that makes the whole disc very enjoyable.
Kevin Beavers's jazz-infused Sonata sets the tone with the effervescent scampering of the opening, and the shades of Bluegrass in the rolling second movement are performed with flair and humour. Bolcom's Graceful Ghost Rag is a perfect, ragtime-inspired showpiece, beautifully played, and the tender, luminous harmonies of Ching-Chu Hu's Snow Ash provide a welcome, spaciously drawn contrast, performed with care and loving attention by the duo. The echoing minor thirds and long-limbed phrases of The Stream Flows are also beautifully paced.
Written for Conklin, Joel Puckett's Colloquial Threads is somewhat more opaque but contains some intriguing moments, particularly the frantic runs of the second movement, 'Football and the Lord', based on the composer's childhood memories of Sunday trips to church and sport. Kevin Puts's Aria makes a suitably songful, delicately etched finale, full of Romanticism but with a slight distortion of harmonies that prevents it from becoming sentimental. The recorded sound has a nice shine, but I felt there wasn't enough silence left between the pieces.
Catherine Nelson