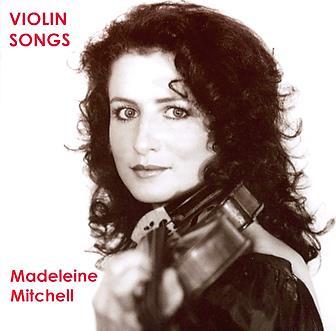 The Strad Issue: January 2008
Musicians: Madeleine Mitchell (violin) Andrew Ball (piano) Elizabeth Watts (soprano)
Composer: Elgar, Berg, Bridge, Copland, Prokofiev, Massenet, L. Boulanger, Poulenc, Ravel, Schubert & Strauss
The innumerable miniatures and short salon pieces written for the violin don't get much of an outing nowadays, aside from the occasional encore. Madeleine Mitchell has put together 23 of them, mostly, as the title suggests, of the melodic rather than virtuosic variety. Some, such as Elgar's Salut d'amour and his Chansons of night and morning, Massenet's 'Méditation' from Thaïs, and Prokofiev's Cinq mélodies are well known. But most are rarities, and it is delightful to have them here, especially when played with such warmth and finesse. There are nocturnes by Copland and Lili Boulanger, and no fewer than six delightful pieces by Frank Bridge, one of them newly unearthed.
This a project needing not just great melodic skills but also the ability to catch subtleties of character if it is not to blur into an hour and a quarter of sounding pretty. Mitchell's playing is exceptional throughout. Each short performance here has a personality of its own: the wistfulness of Copland, played with veiled breathy tone, the gentle humour in the fourth of Prokofiev's Mélodies, the easy charm of the Elgar pieces, the cool lyricism of Ravel's Berceuse sur le nom de Fauré. There are some real songs here, arranged by Mitchell and others, including Berg's early Die Nachtigall, and we finally get the real thing when Elizabeth Watts joins Mitchell for Strauss's Morgen. This is a CD full of small joys, wonderfully played. The sound is close and warm.
TIM HOMFRAY