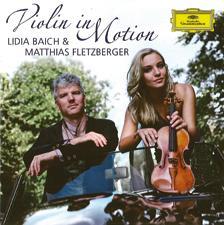 The Strad Issue: January 2012
Description: Modern advocacy for the art of the transcriber from a virtuoso duo
Musicians: Lidia Baich (violin) Matthias Fletzberger (piano)
Composer: Rimsky-Korsakov, Mussorgsky, Prokofiev, Khachaturian, Liszt, Beethoven & Franck
The age of violin and piano transcriptions of symphonic works had long passed when the music that makes up the CD component of this release was composed. But Lidia Baich and Matthias Fletzberger have sought to redress that situation in a joint venture that brings together five attractive and imaginative arrangements from Rimsky-Korsakov (Scheherazade), Mussorgsky (Night on Bare Mountain), Prokofiev (Romeo and Juliet), Khachaturian (Spartacus) and Liszt (Second Hungarian Rhapsody).
Already successful in many competitions, the Russian-born Austrian violinist was European Musician of the Year in 1998, an award that introduced her to the world's famous concert halls. Though the programme bristles with the need for her brilliant technique – seven dances from Prokofiev's ballet offer a particular showcase of combined virtuosity – there are many moments that also show her as a highly sensitive musician, and her accuracy and clarity in the most mercurial passages exhibit a very agile left hand. Fletzberger, also a winner of major competitions, is excellent in his role of providing the massive orchestral weight required. My sole reservation comes with the close miking of Baich, which brings a rather hard tone to her 1727 Guarneri 'del Gesù' violin.
There is a bonus accompanying DVD of the duo in a 2010 Viennese concert which, from a sound point of view, I find more agreeable. Their performance of Beethoven's 'Kreutzer' Sonata is by turns weighty and eloquent, with dynamics and balance meticulously prepared. Those are also the positive aspects of a reading of César Franck's Sonata that I find just a little short of soaring rapture. The DVD also reprises parts of the Prokofiev and Liszt from the CD. Picture quality and presentation is very good.
DAVID DENTON