Reviewed in The Strad issue: September 2018
Description: Paganini's music played on Paganini's own instruments
Musicians: Giulio Plotino (violin), Clemens Hagen (cello), Matteo Mela (guitar)
Works: PAGANINI Terzetto; Nel cor più non mi sento; Guitar Sonata no.33; Sonata Concertata; Cantabile
Catalogue Number: DYNAMIC CDS 7795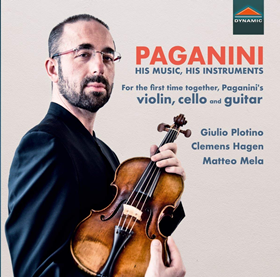 Anyone who has ever pondered what Paganini sounded like in the flesh will be brought at least a step closer by this fine recording. Not only is the programme played on three iconic instruments owned by the great Italian – the 1743 Guarneri 'del Gesù' known as 'Il Cannone', a 1736 Antonio Stradivari cello and a 1797 Ory six-string guitar – but the violin has been set up in much the same way as it was in Paganini's day, with the original bridge and unwound gut strings, and without chin and shoulder rests.
Most of us would think long and hard before attempting the solo 'Nel cor più non mi sento' Variations even on a modern set-up, so hats off to Giulio Plotino who negotiates even the most fiendish intricacies on Paganini's 'del Gesù' with rare aplomb. Perhaps the most striking difference is the 'fatter' sound gut strings produce, most especially on the E string, and the way they match each other tonally throughout the range.
Much the same can be said of Matteo Mela's captivating guitar playing, which emerges free of highly strung intensity (in every sense) and Clemens Hagen's magnificent Stradivari, which can be heard in a glowing performance of the Terzetto. The recording quality is as mellow, yet focused, as the playing itself.
JULIAN HAYLOCK