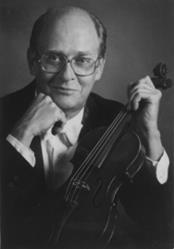 US violinist William Steck has died at the age of 79. A veteran of the Philadelphia, Cleveland, Dallas Symphony and Atlanta Symphony orchestras, he was best known as concertmaster of the National Symphony Orchestra (NSO) in Washington DC, which he led from 1982 to 2001.
Born in 1934, Steck studied at the Curtis Institute of Music and the University of Texas at Austin, where he received a masters in music in 1957. He played in the San Antonio and St Louis Symphony served under Eugene Ormandy in Philadelphia in the early 1960s, graduating to assistant concertmaster with the Philadelphia Chamber Symphony, followed by the Cleveland Orchestra. He first played as concertmaster with the Dallas Symphony Orchestra in the 970s, before joining the Atlanta Symphony in 1974. after eight years in that position, he was asked by cellist Mstislav Rostropovich, then the NSO's music director, to join the NSO as concertmaster in 1982. He performed in that role for almost two decades before his retirement in 2001.
Steck played on a Sergio Peresson violin, made in 1979. During his time at the NSO he performed as soloist in works by Bruch, Bartók, Brahms, Haydn, Mozart and Vaughan Williams. He co-founded the Lanier Trio during his tenure in Atlanta, with cellist Dorothy Hall Lewis and pianist Cary Lewis. He also performed chamber music at festivals across America throughout the course of his career.