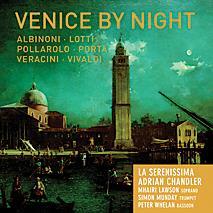 The Strad Issue: January 2012
Description: A nocturnal celebration of the music of a great city
Musicians: La Serenissima/Adrian Chandler (violin/director) Mhairi Lawson (soprano) Simon Munday (trumpet) Peter Whelan (bassoon)
Composer: Albinoni, Lotti, Pollarolo, Porta, Veracini & Vivaldi
This compilation reflects the variety of musical fare on offer during the heyday of the Venetian Republic. With our travels represented by gondoliers' songs we move between private, religious, educational and operatic venues and sample a wide-ranging programme, performed with style and polish.
Adrian Chandler's account of Vivaldi's E minor Violin Concerto RV278 combines delicacy, incisiveness and musical insight, and is technically accomplished and admirably expressive throughout. Chandler adds tasteful ornamentation where appropriate and, above all, allows the instrument to sing in traditional Italian fashion. La Serenissima's string players provide sensitive support and offer a slick, if somewhat mannered performance of Albinoni's Sinfonia in G minor Si7, but one incorporating some delightful exchanges between the violins in the finale, and a well-shaped fugue by Veracini.
They also accompany three other soloists with imagination and sensibility: Peter Whelan showcases his virtuosity and woody bassoon timbres in Vivaldi's C major Concerto RV477; trumpeter Simon Munday plays concertante works by Pollarolo, Albinoni and Porta with jaw-dropping bravura; and, in addition to the gondoliers' songs, Mhairi Lawson sings a motet by Lotti and opera extracts by Vivaldi with substantial accuracy and astute musicianship. The recording is oddly balanced in the trumpet items but otherwise has clarity and warmth.



ROBIN STOWELL