La Serenissima scores with time to spare in an album of previously unheard bonus tracks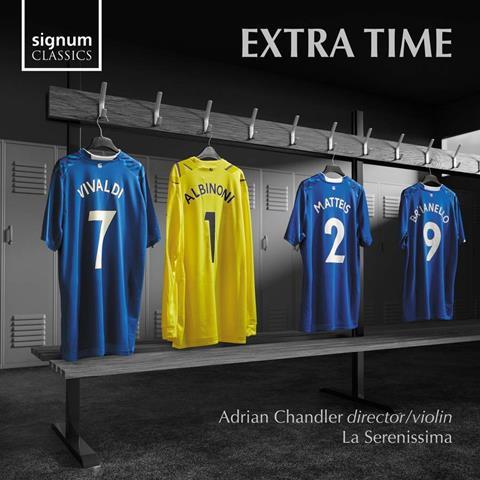 The Strad Issue: October 2020
Description: La Serenissima scores with time to spare in an album of previously unheard bonus tracks
Musicians: La Serenissima/Adrian Chandler (violin)
Works: Works by Albinoni, Matteis (the younger), Vivaldi and Brescianello
Catalogue number: SIGNUM SIGCD 641
This disc's title refers to its status as a compilation of unissued recordings from sessions since 2014–15, as well as Adrian Chandler's own devotion to Everton FC. Examples of the Merseysiders' shirts, imprinted with the names of the featured Italian composers, are emblazoned on its cover.
It kicks off with Albinoni's (no.1) Sinfonia to La Statira, the festive outer movements of which contrast with a minuet-like centre spot for strings and continuo. Vivaldi (no.7) is its midfield anchor, player-manager Chandler tackling a hat trick of the red priest's concertos with style and poise, refined phrasing, elegant expression and imaginative ornamentation. Most striking is the theatrical 'San Lorenzo' concerto (RV286), with its dramatic contrasts and virtuoso finale, but there is further showboating to enjoy in Chandler's accounts of RV171 and RV365 (late version). The orchestral support is strong and energetic but sometimes too hard driven in the finales of RV171 and RV365.
Chandler also scores with Brescianello's (no.9) Vivaldian Concerto in G major and Matteis (no.2) weighs in with some engaging dance music, particularly his seven-movement suite from Cajo Marzio Coriolano (Act III), with its prominent trumpet fanfares, riveting chaconne (with an untimely conclusion), lively Gigue and lilting Loure. The recordings are largely first-rate but the balance occasionally seems top-heavy.
ROBIN STOWELL