The musican was also a dedicated teacher and served as a professor at Morris Harvey College in Charleston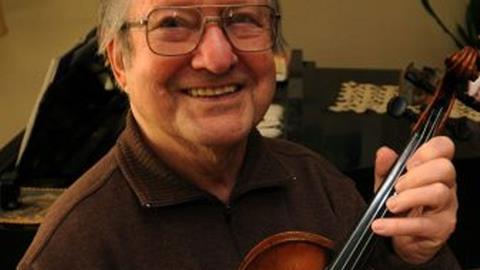 US violinist John Lambros, who for 55 years served as concertmaster and first chair violinist of the Charleston Symphony Orchestra - later renamed the West Virginia Symphony Orchestra - has died at the age of 98.
Following studies at the American Conservatory of Music and Northwestern University, in addition to post-graduate work at Indiana University, Lambros moved to Charleston in 1950, taking up a professorship at Morris Harvey College (now the University of Charleston) and assuming leadership duties with the city's symphony orchestra.
A dedicated teacher, Lambros also helped to launch the Kanawha Valley Youth Orchestra, which later became the West Virginia Youth Symphony, and subsequently served as the ensemble's conductor.
Photo: Kenn Kemp / Gazette-Mail
Read: Former Berlin Philharmonic principal cellist Eberhard Finke has died aged 96