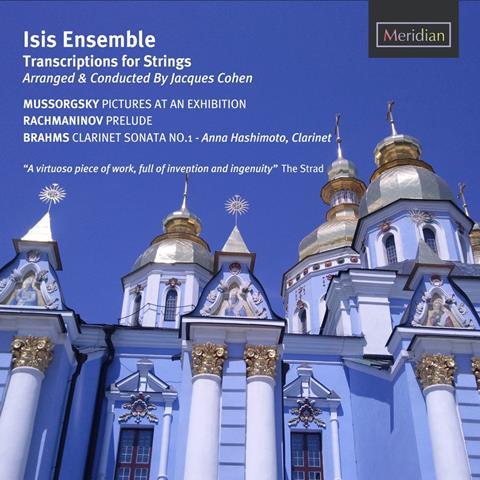 The Strad Issue: September 2015
Description: String arrangement offers a new view of Mussorgsky's picture gallery
Musicians: Anna Hashimoto (clarinet) †¨Isis Ensemble/Jacques Cohen
Composer: Mussorgsky, Brahms, Rachmaninoff
You'll be struck straight away by the sound of unison bowed and plucked strings as the art lover marches purposefully into the Hartmann exhibition. And that's rather the point of this arrangement for string ensemble of Mussorgsky's piano masterpiece. For many, Ravel had the last word as concerns colouring the monochrome of the keyboard original. But there are many prisms through which to view these pictures: Stokowski more garishly; Henry Wood less so; Vladimir Ashkenazy with echt Russian darkness – many of the variants valuably curated in hybrid compilations by Leonard Slatkin. Perhaps you prefer the Swingle Singers, or Emerson, Lake and Palmer's prog-rock reimagining.
Nevertheless, Jacques Cohen takes the black and white of the piano and shades it with the broader range of chiaroscuro offered by a string ensemble. So 'Gnomus' is rendered suitably grotesque by ponticello trills and glassy harmonics; the 'Ballet of the Unhatched Chicks' is recast with a Nutcracker lightness of touch; Baba Yaga's mortar flight is propelled by vivid Bartók pizzicatos; 'Bydlo' draws near and retreats with a remarkable intensity. Only 'The Great Gate at Kiev' seems underpowered – but perhaps I'm too attached to Ravel's brass- and percussion-bedecked triumphalism to hear it anew.
Anna Hashimoto is a sensitive soloist in what sounds a rather overblown amplification of Brahms's F minor Clarinet Sonata, and in between comes a rather subfusc Rachmaninoff C sharp minor Prelude. Playing is mostly adequate, the acoustic ample if a little diffuse. But what a way to rehear the disc's major work: let's hope it's taken on by plenty of other adventurous string ensembles.
David Threasher