The suspects, all from Milwaukee, are currently in custody, although the violin has not been recovered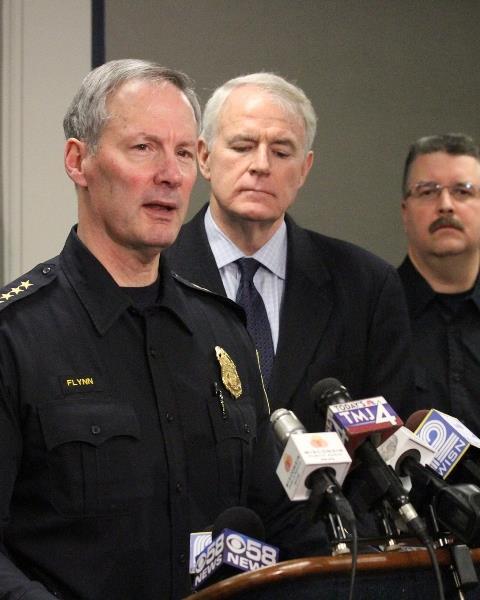 The Milwaukee Police Department has arrested three suspects in connection with the armed robbery of the 'Lipinski' Stradivarius. Although the violin, which is thought to be worth $5m, has not been recovered, police chief Edward Flynn (pictured) confirmed in a news conference that investigators had made the arrests on Monday following dozens of tips. A 36-year-old man, a 41-year-old man and a 32-year-old woman, all from Milwaukee, are currently in custody.
'I am extremely proud of the detectives and officers of the Milwaukee Police Department,' said Flynn. 'Within a week, they vetted and investigated dozens of tips and made three high-quality arrests. We anticipate charges to be filed by the District Attorney in the coming days.
'At this point, we don't have any indication that they were working for anyone but themselves,' Flynn continued, although he stressed the investigation is ongoing.
The police later confirmed reports in the local press that one of the suspects had previously been convicted of handling a $25,000 sculpture that disappeared from a Milwaukee art gallery in 1995.
The 'Lipinski' Stradivarius was stolen after a performance at Wisconsin Lutheran College on 27 January as Milwaukee Symphony Orchestra concertmaster Frank Almond walked to his car. The thief attacked the violinist with a stun gun, causing him to drop the Strad, and fled in a waiting car driven by an accomplice.
The Milwaukee Symphony Orchestra has since announced that a $100,000 reward is being offered to anyone who can provide information leading to the violin's safe return. The source of the reward money has not been identified.
On Monday Frank Almond published a statement by the Strad's anonymous owner on his website, which praised the efforts of the Milwaukee police and expressed relief that Almond was not seriously hurt.
Subscribe to The Strad or download our digital edition as part of a 30-day free trial. To purchase back issues click here.