The Strad's August 2016 cover star speaks about adjusting to playing a c.1725 Gofriller, after twelve years with her beloved Guadagnini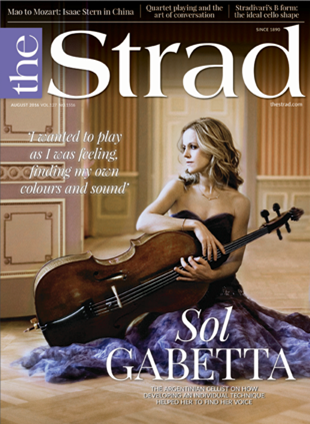 The following is an extract from The Strad's cover interview with Sol Gabetta, published in the August 2016 issue. Download it here from 20 July or click here to pre-order the print edition
On 15 July, Sol Gabetta will perform the Elgar Cello Concerto at the First Night of the BBC Proms in London, with the BBC Symphony Orchestra conducted by Sakari Oramo. Promenaders will have the added bonus of hearing her play the work on her newly acquired Matteo Gofriller cello, made around 1725. She now uses it as her primary concert instrument, while her much-loved 1759 Guadagnini, which she has played for the past twelve years, is now mostly used for Baroque repertoire.
'I fell in love with the Guadagnini because of the beauty and purity of its sound, especially its brightness and the richness and variety of its timbres and colours,' she says. 'It was with this instrument that I formed my voice, but it is not an easy cello to play: the harmonics are so rich that good intonation can be difficult to achieve. It is not a loud instrument with a direct projection, and it cannot be forced, so I had to use the subtleties and variations in my playing to catch the attention of the public.
'Then last September I had the chance to test the Gofriller at the workshop of Balthazar Soulier, and I immediately had the feeling that it could be an alternative instrument. I took the risk of taking it on tour, when I was playing the Elgar Concerto, and found that it had a very natural projection and that I was able to play more freely and effectively than on the Guadagnini. It is strong but not aggressive, and I love having an expressive instrument that can be pushed to extremes, and which is full of energy but allows me to sculpt the sound with great subtlety. There is a tiger inside this instrument! The Gofriller reflects my personality from interior to exterior. It's amazing how an instrument can influence and change your playing and technique.'
The complete interview with Sol Gabetta is published in The Strad's August 2016 issue, available for download from iTunes or Google Play from 20 July. Click here to pre-order the print edition.
Watch Sol Gabetta give a unique performance of the Elgar, ahead of her BBC Proms debut on 15 July: