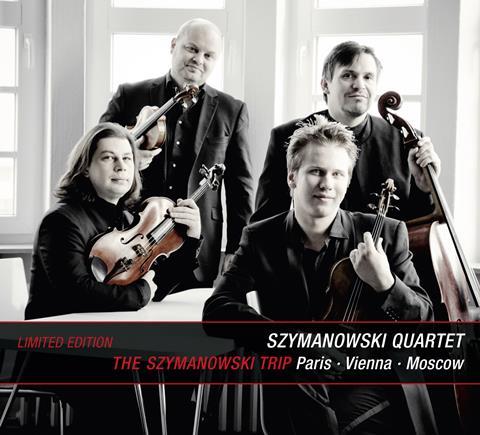 The Strad Issue: May 2016
Description: Three recitals follow Szymanowski on his travels around Europe
Musicians: Szymanowski Quartet
Composer: Beethoven; Laks; Prokofiev; Ravel; Schubert; Skoryk; Szymanowski; Tchaikovsky; Webern
This set comprises three separate discs, the first two previously released in 2009 and 2011, each setting the quartets of Szymanowski in the context of music from European cities that he frequented: Paris, Vienna and Moscow. Three Szymanowski quartets? You might ask: the answer is that the two numbered works are joined here by a virtuoso quartet arrangement by Myroslav Skoryk of the Nocturne and Tarantella for violin and piano. This acts as a fizzing prelude to the Parisian pairing of a suavely played Ravel F major Quartet and a suitably intense account of the 1945 Quartet 'on popular Polish melodies' by Szymanowski's Paris-based student, Auschwitz survivor Szymon Laks.
The Vienna disc (reviewed in the September 2011 issue) centres on an absorbing, authoritative performance of Szymanowski's multifaceted Quartet no.1, early-Schoenbergian
in its yearning first movement, modernist in its polytonal finale. It is placed next to music from the first and second Viennese schools: Beethoven's op.18 no.2 is fresh-faced, the players capturing its Haydnesque whimsy, while Schubert's Quartettsatz is vigorous and well articulated and Webern's Langsamer Satz warm-hearted and touching.
In Moscow, a wide-ranging interpretation of Szymanowski's almost Bartókian no.2 meets a hard-driven account of Prokofiev's Second. Tchaikovsky's First Quartet op.11 is played with much warmth and Romantic ardour, and Skoryk's own Melody in A minor, originally written to underscore a Soviet-era film in the early 1980s and as such forgivably anachronistic in its Tchaikovskian plumage, makes a fitting conclusion.
All three discs have been sensitively recorded at the SWR Chamber Music Hall in Stuttgart and their diverse and well-chosen repertoire, eschewing single-composer completism, means that each can be enjoyed at a single sitting as if in a recital, the more so given the special qualities of the Szymanowski Quartet's excellent sense of ensemble and interpretative freshness.
Matthew Rye