Our education focus celebrates the great teachers of today's leading players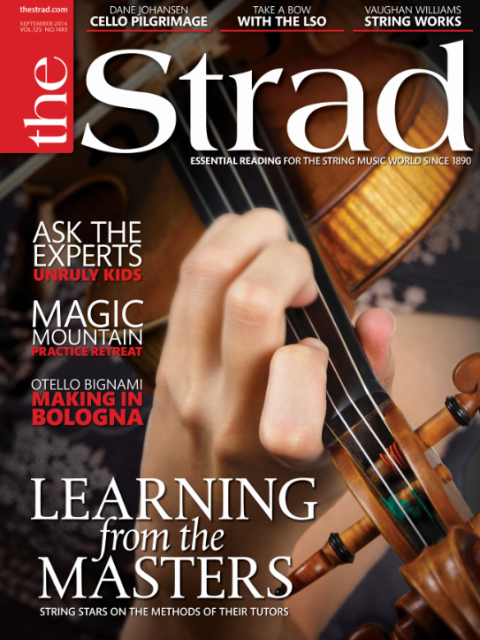 The September issue of The Strad is on sale now ? an education special celebrating today's great string players and the teachers who inspired them.
We also examine the Magic Mountain Music Farm, a retreat for adult string players in upstate New York which promises to transform their playing in just two weeks; the London Symphony Orchestra's Take a Bow scheme, which offers young players the chance to perform with one of the world's great orchestras; and Vaughan Williams's six concertante works for strings. Plus we celebrate Otello Bignami, one of the key figures in 20th-century Bolognese lutherie, who was born 100 years ago this year.
In our regular sections: In Focus gives a close-up view of a 1706 cello by David Tecchler; Douglas Cox discusses his method for using glass bead to measure wood density in Trade Secrets; Paris-based maker Stéphane Bodart invites us into his workshop in My Space; Leon Bosch guides us through the first movement of Dittersdorf's Double Bass Concerto no.2 in Masterclass; Simon Fischer describes how to vary your dynamics in Basics; cello pedagogue Hillel Zori discusses how to improve students' bow technique in Ask the Teacher; Cavaleri Quartet violist Ann Beilby takes us through her Practice Diary; and four teachers advise how to deal with a problem pupil in Ask the Experts.
Plus, we bring you news of the latest competitions, products and auctions, and comprehensive reviews of concerts, CDs and books.

The digital magazine is on sale now. The print edition is on sale from Friday 22 August 2014. Subscribe to The Strad or download our digital edition as part of a 30-day free trial. To purchase single issues click here