The Pavel Haas Quartet speak about their namesake, their new Smetana disc and the 'Czech string quartet sound'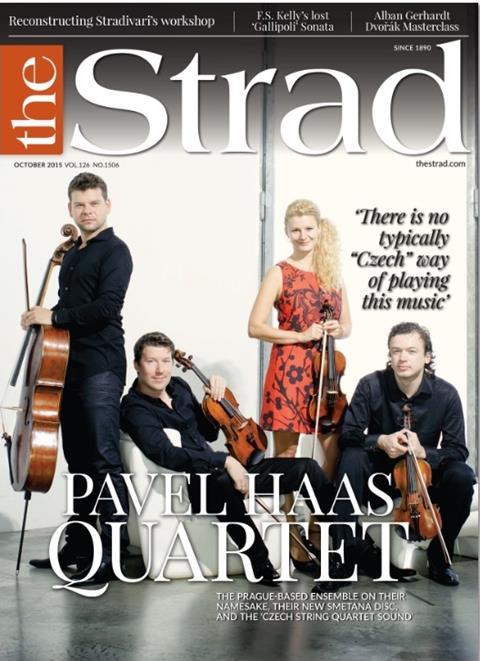 The Strad's October 2015 issue is on sale now, in which the Pavel Haas Quartet speak to Chloe Cutts about their new disc of Smetana quartets and the processes that inform their interpretations.
Elsewhere in the the issue, Erik Levi assesses the string output of Czech composer Pavel Haas, who died in Auschwitz during the Second World War; Rupert Marshall Luck tells the story of Australian composer Frederick Septimus Kelly's violin sonata, written during the Gallipoli Campaign of 1915; and Andrew Dipper investigates the clues to the layout and history of Stradivari's house and workshop - the great maker's residence from 1680 to 1737, which was demolished in the 1930s.
In our regular sections: In Focus gives a close-up view of a 1933 violin by Giuseppe Lecchi; bow maker Matthew Wehling fashions a drill bit for a Parisian eye in Trade Secrets; German-based luthier Ian McWilliams invites us into his workshop in My Space; Alban Gerhardt guides us through the second and third movements of Dvorák's Cello Concerto in Masterclass; double bassist François Rabbath gives tips on his left-hand pivot and crab method in Technique; US violinist Matthew Lipman takes us through his Practice Diary; string manufacturers discuss why a player's strings keep unravelling in Ask the Experts; and violinist Richard Tognetti talks about Bach's Violin Sonata no.2 as his Sentimental Work.
We also bring you news of the latest competitions, products and auctions, and comprehensive reviews of concerts, CDs and books.
The digital magazine is on sale now. The print edition is on sale from Monday 21 September 2015.