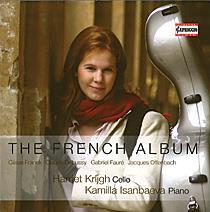 The Strad Issue: January 2012
Description: A promising debut from a young Dutch cellist
Musicians: Harriet Krijgh (cello) Kamilla Isanbaeva (piano)
Composer: Franck, Debussy, Fauré, Offenbach
In this tried and tested repertoire, Harriet Krijgh gives a fervent account of the Franck Violin Sonata in its cello guise, entirely appropriate to the passionate and fiery invention. Her reconstructed Hendrik Jacobs cello of 1690 yields a honeyed yet strong quality of timbre that suits this music. At the same time, the sensitive and introspective passages are eloquently delivered with impressive ensemble enhanced by a warm recording.
The Debussy Sonata is presented in a similarly bold fashion, but occasionally misses some of the quixotic magic and colour of some other performances, while at bar 24 in the Prologue the ensemble is momentarily wayward. However, it is a well-characterised performance and exciting in the concluding Appassionato section.
Krijgh musters an elegant charm in the golden cameo pieces by Fauré, although in the Sicilienne the phrasing is sometimes a little choppy. The Elegy is taken at quite a brisk pace, the advantage being a cogent feeling for the long phrases and consequently a tangible sense of forward impetus. That said, some of the poignant gravitas of the music is diminished.
The melancholic but attractive work by Offenbach is less frequently heard, but is again compellingly and lyrically delivered by both artists, who are without doubt names to watch.



Joanne Talbot