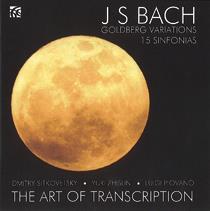 The Strad Issue: January 2012
Description: A transcription that has become a modern classic back in the hands of its creator
Musicians: Dmitry Sitkovetsky (violin) Yuri Zhislin (viola) Luigi Piovano (cello)
Composer: Bach (arr. Sitkovetsky)
Dmitry Sitkovetsky began work on a string trio arrangement of Bach's Goldberg Variations in 1984, while under the spell of Glenn Gould's revelatory 1981 recording of the keyboard original. Describing it as 'a labour of love', he was surprised to find it soon being played all over the world. Now, in revisiting the score, he has removed most of the repeats and 'injected some fresh, youthful energy', resulting in a score lasting little more than 47 minutes, compared to the 70 or so of the original keyboard work. Admittedly we have moved some distance from the original score, though I would imagine its length and content will fit more readily into a string trio concert programme, and despite a personal aversion to such wholesale changes, the result is attractive.
That reduction in length leaves room on the disc for Sitkovetsky's likeable adaptation of the 15 three-part keyboard Inventions. The trio, also including Sitkovetsky's outstanding Russian compatriot Yuri Zhislin on the viola and the Italian cellist Luigi Piovano, displays admirable technical precision throughout. Well-judged balance between instruments yields much internal clarity. Tempos are well chosen, and if the players are a little short of Baroque period credentials, they produce a crisp tone with little vibrato, and offer such an abundance of riches that one readily forgets such reservations. The sound quality is rather reverberant.



DAVID DENTON