Repeating a difficult passage over and over again can lead to stress and tension. Instead distract your mind at the point of execution to feel relaxed as you play, writes cellist Thomas Demenga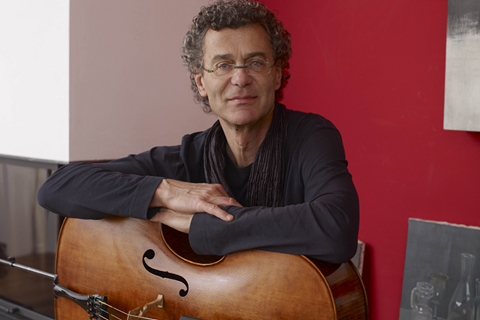 When people ask me how much I practise I usually say, 'I don't practise, I check whether I can still do it...'
This is, of course, a joke, but it also contains a truth. Before one starts to practise one has to know WHAT to practise. At a certain age we are supposed to have a standard repertoire at our disposal. Nevertheless there are always sections that need to be practised over and over again – passages that we still worry about on stage.
For these I have a little secret: passages that we worry about don't need more practice time, but rather more relaxation as we execute them. Now, how to practise to be more relaxed? Certainly not by repeating the passage over and over again, hundreds of times, in every possible way. Rather, by distracting our mind exactly in the instant of execution.
One possibility can be, as you approach the scary bit, you slowly start moving your head in a circle, possibly in a non-rhythmical and 'non-musical' way. In doing this you are forced to concentrate on the circle your head is drawing instead of worrying about the passage you are about to play. The result is very often astonishing – you just may have played your most hated passage perfectly and with great ease! The next step is to succeed in the same way on stage... There I suggest you do the same – but this time make it look natural and beautiful and with an inner smile! Still move your head slightly, but rather THINK you're drawing a circle and you will again feel ease while you play.
Another exercise, this time without your cello. First thing after breakfast, brush your teeth and comb your hair at the same time. But both activities have to be done properly! No hair in your mouth and no toothpaste in your hair, please!
There are lots of little fun exercises you can do while sitting at a table. Slide your left hand back and forth about 40cm in a quick motion as if wiping off bread crumbs. At the same time, quickly tap your right hand up and down. Repeat this six times and then switch hands without interrupting the movements. You can create your own, more difficult, exercises in order to improve your skills. In practising these types of activity, your brain adopts its normal state of independence while playing.
You might wonder where I have acquired this 'wisdom'... From the zoo! Go have a look at the chimpanzees. You might observe one who finds a louse on his partner's back with his left toes, while picking up an apple with his right foot, while opening a banana with his hands, while gazing around in a state of boredom. This is such independence of which we can only dream, but I believe it's good for us musicians to develop these skills as best we can.
I do admit, however, that my theories have also been influenced by a human being – Arto Noras. One of my students, who had previously studied with the Finnish master, told me that Noras suggested swallowing shortly before a difficult shift. Try it! It's less difficult than drawing circles in the air with your head – and it also works!
In his six-week masterclass in Basel, many years ago, Mstislav Rostropovich gave me some good advice. At the time his English was rudimentary and we students – people like Christophe Coin, Frans Helmerson, David Finckel and Maria Kliegel – sometimes made fun of his short sentences. One of his two-word sentences I remember very clearly. 'Practice wrong!' he said. This means that we shouldn't necessarily practise a passage over and over again until we feel we have come closest to our imagined version, but rather that we should try out many different, and maybe musically 'wrong' versions, in order to be able to create a new one in the moment of performance . In doing so, our brain, again, will be relieved of the pressure of performing an action in a single, rigid way, and this will result in a freer attitude.
Swiss cellist, composer and teacher Thomas Demenga has collaborated with artists including Gidon Kremer, Thomas Zehetmair and Tabea Zimmermann, and with such conductors as Myung-Whun Chung, Charles Dutoit, Claus Peter Flor and Mstislav Rostropovich. Since 1980 he has led classes for students and soloists at the Hochschule für Musik in Basel, and was formerly artistic director of the Davos Festival. He has recorded a number of albums for ECM.