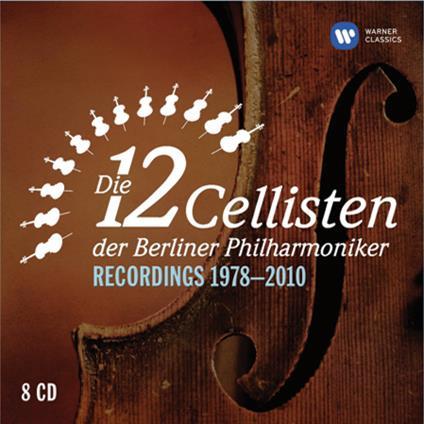 The Strad Issue: June 2015
Description: The collected complete recordings of Berlin's cello supergroup
Musicians: 12 Cellists of the Berlin Philharmonic
Composer: Various
As if the nostalgia of its 40th anniversary DVD were not enough, Warner now releases all eight recordings made by that incomparable musical institution, the 12 Cellists of the Berlin Philharmonic, in a box set.
The earliest three CDs, Die 12 Cellisten der Berliner Philharmoniker vols.1 and 2 (1978 and 1981) and The Beatles in Classic (1983), are no longer commercially available separately and it is worth buying the set for the first two alone. These were the heady days of commissions from the likes of Xenakis, whose Windungen explores some incredible expressive effects, from an oppressive fortissimo unison to an eerie sul ponticello calm, and of classical arrangements of the power of Bertali's Sonata Á due chori, which blows you away with the richness of its sound when all twelve parts enter at the opening.
The 17-year gap before the next recording, South American Getaway (2000), unexplained owing to the absence of any accompanying booklet, saw the retirement of the group's founder, Rudolf Weinsheimer, and the subsequent shift towards crossover. Thereafter there was a steady flow of CDs up to 2010: Broadway and film themes in Round Midnight and As Time Goes By, then Angel Dances and Fleur de Paris, arrangements of sacred and French music respectively. There are a few overlaps, most notably Villa-Lobos's Bachianas Brasileiras nos.1 and 5, which both appear twice – no.5 first with Arleen Auger and later with Juliane Banse – and one strange omission, Klengel's Hymnus, the first work ever written for twelve cellos, which the group played at its debut.
Highlights of just under eight hours of listening to flawless ensemble in slick (sometimes too slick) arrangements include the marvellous clarity of every part and entry in Piazzolla's Fuga y Misterio, an inevitable improvement in sound quality from the earlier discs, and the delicate arrangement of Debussy's La cathédrale engloutie by Rudolf Leopold, with its shifting planes of sound.
JANET BANKS