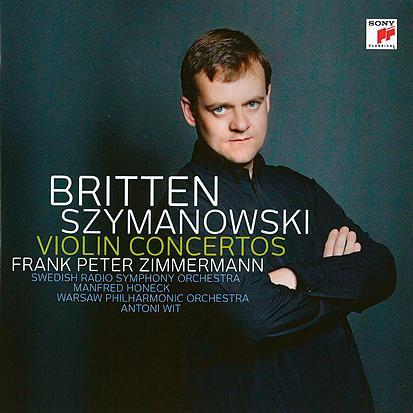 The Strad Issue: January 2009
Musicians: Frank Peter Zimmermann (violin) Warsaw Philharmonic Orchestra/Antoni Wit*, Swedish Radio Symphony Orchestra/Manfred Honeck†
Composer: Szymanowski, Britten
An unusual coupling of composers, but who cares when between them they produced three of the most seductive violin concertos of the 20th century? Frank Peter Zimmermann is a natural for Szymanowski's heady, emotionally volatile music, as searing in the passions of no.1 as he is gritty in the more folk-inflected no.2. But these warm-hearted accounts are let down by recordings, made in Poland in 2006 and 2007, that, although capturing plenty of detail in the quieter passages, fatally clog up in the full-orchestral tuttis. Rattle's City of Birmingham Symphony Orchestra for the less tonally alluring Thomas Zehetmair (EMI) is much more lucid.
Fortunately, the Britten, recorded as long ago as 2004, is accorded a more transparent acoustic throughout in the Berwald Hall, Stockholm. Zimmermann brings a refreshing sense of discovery to the music here, finding subtleties in Britten's violin-writing that have often eluded his forebears. His agility and flexibility are everywhere evident and, unusually for a studio recording, there's a real sense of spontaneity to the music-making. Manfred Honeck, too, brings his broader, Austro-German heritage to bear on a work completed at the outbreak of the Second World War, finding a Mahlerian irony in the scherzo and a weighty foreboding in the final Passacaglia.


Matthew Rye