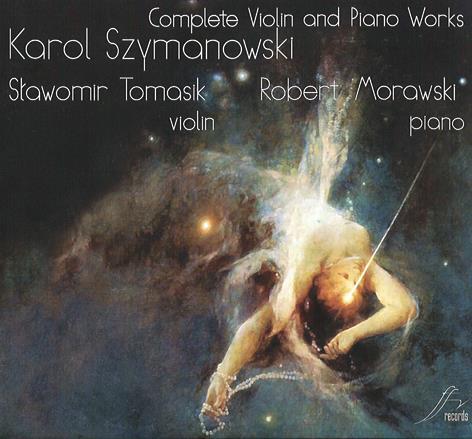 The Strad Issue: January 2011
Musicians: Stawomir Tomasik (violin) Robert Morawski (piano)
Composer: Szymanowski
Karol Szymanowski, whose creative style was forged initially from the folk music of his native Tatra Mountains, was one of the most enigmatically individual of early 20th-century composers. This fine collection usefully brings together everything he wrote for violin and piano, most notably the op.9 Sonata, the three Myths op.30 – an intoxicating flow of musical invention based on scenes from Greek mythology – and his arrestingly inspired rethinks of three solo Paganini Caprices (nos.20, 21 and 24).
Stawomir Tomasik's relatively small-scale sound proves ideal in these opulent scores. Rather than emerging as all-conquering hero in the heady textures of the Sonata, his unfailing purity of line and lyrical intensity creates the impression of a lone, often despairing voice in the musical wilderness. His pulsatingly supple approach to the three Myths encapsulates the music's often startling poetic changeability, even if his account of the Paganini caprice adaptations is a shade underpowered. The jewels in the crown of this collection are the remaining eleven miniatures (some of them arrangements), ranging from the haunting op.28 Nocturne to the Bartók-like rhythmic drive of the Wild Dance. Robert Morawski emerges remarkably unscathed from Szymanowski's cruelly demanding piano writing, and the recording places a suitably warm glow around the instruments.


JULIAN HAYLOCK