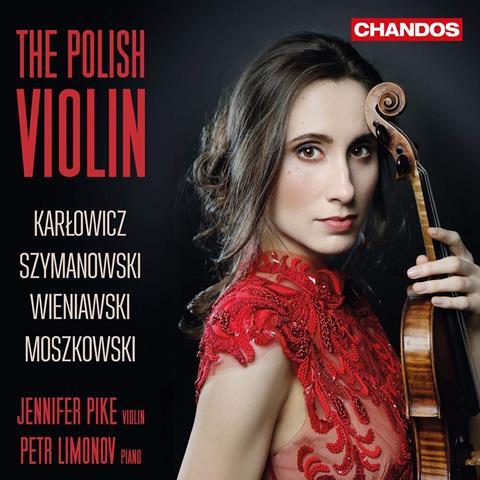 The Strad Issue: April 2019
Description: Brilliant and personal exploration of a violinist's cultural heritage
Musicians: Jennifer Pike (violin) Petr Limonov (piano)
Works: SZYMANOWSKI Mythes op.30; Nocturne & Tarantella op.28; Chant de Roxane from Król Roger (arr. Kochański); Romance in D major op.23 KARŁOWICZ Impromptu WIENIAWSKI Légende in G minor op.17; Polonaise brilliante no.1 in D major op.4 MOSZKOWSKI Guitarre op.45 no.2
Catalogue Number: CHANDOS CHAN 20082
Jennifer Pike has a bloodline to this repertoire via her Polish mother but hasn't simply rested on genealogy, absorbing Polish culture and travelling to the Tatra Mountains for this disc.
Her affinity with Polish expressionistic melancholy is evidenced by deep, personal playing at low registers and a striking harbouring of the sort of ecstatic rapture Szymanowski (in particular) brings to high ones.
That composer makes up the bulk of the menu here and Pike's engagement with his scented world is made more of rapt than neurotic intensity, with touches of fragility, idiosyncratic little glissandos and some exceptional instances of focus.
Across Szymanowski's opp.23, 28 and 30, and Kochański's arrangement of Roxane's aria from Król Roger, there is every challenge in the book, including abundant double-stopping and specifically coloured harmonics requiring uncomfortable extensions (notably in op.28's Nocturne).
In the works that follow by Moszkowski, Karłowicz and Wieniawski the effects are more of the coloratura variety, and while there's a different slant on that melancholy from Karłowicz – Pike brings an almost vocal delivery to the central section of his Impromptu – the post-Szymanowski fillers drop from emotional torture to entertainment and the programme can feel ill balanced.
But in none of those technical challenges does Pike sound anything other than lost in the music – in a good way – and Chandos's involving sound helps.
ANDREW MELLOR