One can learn from great artists in the bar after a concert in addition to masterclasses at the Verbier Festival Academy, writes Animato Quartet violist Elisa Karen Tavenier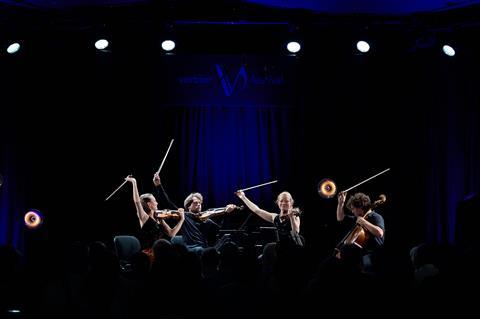 Read more student and player experiences in our Education Hub
We decided to apply for the Verbier Academy after having heard from many fellow young musicians that it is an incredible academy to attend. When we looked online to the list of teachers which we would work with, we were completely sold. The atmosphere in Verbier is something very special, next to our busy schedule we are able to go to so many concerts of the highest level, and sometimes we even bump into the great artists on the street.
We are preparing for the Banff International String Quartet Competition and these three intensive weeks with coachings and concert opportunities feel like a perfect way to dive into the repertoire. I think the hardest thing here is to make the choice between attending a concert, masterclass or maybe trying to get some practice in on your own!
Every day at the festival academy is different. As a string quartet in the academy we have masterclasses almost every day. We also had a recording day with the audio engineering team here to record a piece of our choice. There are also many great concert opportunities for us both in Verbier and in the surroundings, where we get to play. To process everything that we work on during these masterclasses we are rehearsing each day together for many hours. After rehearsing and having masterclasses we finish the day attending one of the many concerts and finally end up in the bar with the rest of the festival musicians.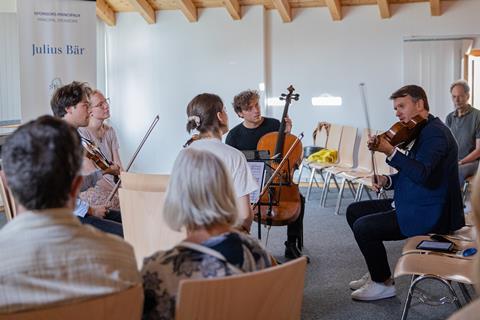 All the masterclasses are very inspiring and we've seen so many incredible concerts it is hard to pick a favourite. What we all find very special is that because we have the opportunity to go to so many concerts we normally might not attend, we have discovered some incredible pieces. For example, we attended a concert by the Verbier Festival Chamber Orchestra with Anna Caterina Antonacci singing La Voix Humaine by Poulenc. None of us had heard this piece before and we were absolutely blown away by the incredible performance. Another, more obvious, highlight was the concert of the Ébène Quartet and Daniil Trifonov. As a string quartet this was just incredible to witness and the next day we got to work with Ébène cellist Raphaël Merlin on Beethoven in our masterclass.
What we all appreciate about the academy is that in addition to music education, there are also many workshops to attend about topics that are so important but are often overlooked. We had the opportunity to talk about dealing with programming, tax advice, psychology of performing and body techniques to help relax on stage. All in all it is a very wholesome experience being part of the Verbier academy, and we look forward to diving into all the new knowledge and digest everything we've learnt.