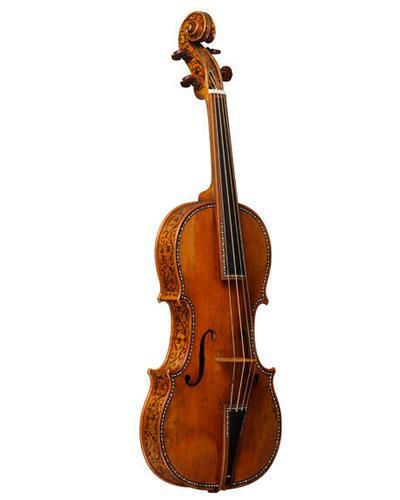 The Ashmolean Museum in Oxford, UK, is to hold a major Stradivari exhibition this summer. Stradivarius, which runs from 13 June to 11 August, will feature 21 Stradivaris drawn from international and private collections, London's Royal Academy of Music and the Ashmolean's own collection.

The exhibition has been curated by Jon Whiteley, the Ashmolean's senior curator of European art, in collaboration with Charles Beare, who has stated that the instruments on show will be 'the very finest and best-preserved examples'.

The Ashmolean is famously home to the 1716 'Messiah' Stradivari, and also counts the 1683 'Cipriani Potter' (pictured) in its collection. Visitors to the exhibition can also expect to see the 'Viotti' violin of 1709 and the 'Batta-Piatigorsky' cello of 1714. A full list of the instruments being displayed can be viewed below.

The exhibition will feature a display of Stradivari's tools, models and patterns, on loan from the Stradivari Museum in Cremona. Luthier workshops, expert tours and a series of performances will take place during the run of the exhibition. James Ehnes begins the events programme with a solo recital on 14 June at Oxford's Sheldonian Theatre, where he'll play Bach and Paganini on a number of Stradivari violins.

The full list of Stradivari instruments on display is:
1666 violin
1683 'Cipriani Potter' violin
1688 'Hill' guitar
1694 'Benecke' violin
1696 'Archinto' viola
1698 'Baron Knoop' violin
1700 'Cristiani' cello
1700-1710 mandolin
1709 'Viotti' violin
1709 'La pucelle' violin
1711 'Parke' violin
1712 'Fountaine' violin
1715 'Boissier' violin
1713 'Bass of Spain' cello
1714 'Batta–Piatigorsky' cello
1715 'Alard' violin
1716 'Messiah' violin
1717 Tyrrell violin
1721 'Lady Blunt'
1733 'Kreisler' violin
c.1734 'Habeneck' violin
Several of the instruments can be viewed in the digital edition of The Strad for June 2013, available for download here: http://www.thestrad.com/apps