University of Georgia professor Milton Masciadri was flying from Atlanta to Arkansas for a recital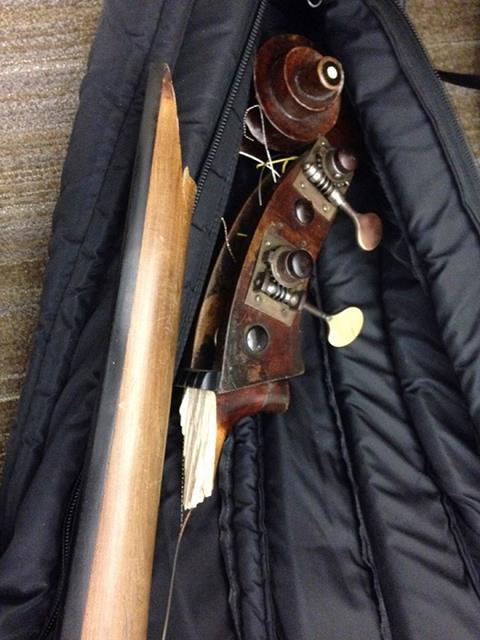 Mere days after bassist Karl Fenner published photos on social media of his badly damaged instrument, University of Georgia faculty member Milton Masciadri has posted very similar pictures of his double bass – once again snapped in half at the neck.
Both instruments were damaged via Atlanta Airport in the US, although the airlines were reportedly different. In Masciadri's case, his Testore instrument was smashed en route to Arkansas, where the musician was due to give a recital.
'Not a good week for Atlanta Airport with musical instruments,' reads his Facebook page. 'The only thing common is TSA [Transport Security Administration] itself. In my case they failed to put the restraining belt on the neck of the bass after inspection. This is the second instrument broken in three days….'
Fenner commented on Masciadri's post, expressing his sympathy and confirming that Southwest Airlines have now accepted sole responsibility for the damage to his own bass.
UPDATE: The Strad spoke with Milton Masciadri , who told us that his 1690 double bass would take three months to repair at a cost of $8,000, forcing him to use another instrument for a number of performances, including a solo appearance in New York's Carnegie Hall. The whole neck will be replaced, but as the body and scroll of the instrument were undamaged, these can be retained. In a stroke of good fortune, the instrument's neck was already replaced in 1913, while the body and scroll are original. Masciadri informed us that the airline has been very helpful and offered to cover the entire cost of the repair, despite, he believes, not being accountable for the damage.
Earlier this year, Southwest Airlines baggage handlers broke the cello of Nicholas Gold, who later made a crash test video demonstrating the amount force necessary to damage his sturdy Stevenson case.
Read The Strad's top tips for travelling musicians.