Violist Phillip Serna has posted images of the wrecked instrument on Twitter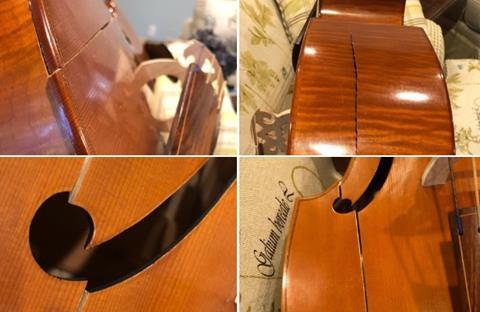 Damaged in transit: Phillip Serna's viola da gamba
Purchasing a stringed instrument on an online bidding website might net you a bargain, but it comes with risks, not least with the transportation.
Chicago-based violist and double bassist Phillip W. Serna has posted on his Twitter and Instagram accounts graphic images of a viol which he recently bought eBay, which arrived at his address badly damaged with large cracks. Serna's Tweet, which reads 'Bubble-wrapped #Viol, hard case, air-bubble cushioning, large box', is accompanied by the hashtags #HappyHolidays #Horror and #FedUpWithFedEx'.
Representatives from eBay and FedEx have responded directly to Serna's Tweet. Whatever the outcome, the instrument deserves to be included in The Strad's Halloween Hall of Horrors.

Read: How a flight-damaged Edward Lewis viola da gamba rose from the ashes
Read: Making Matters: a phoenix from the ashes