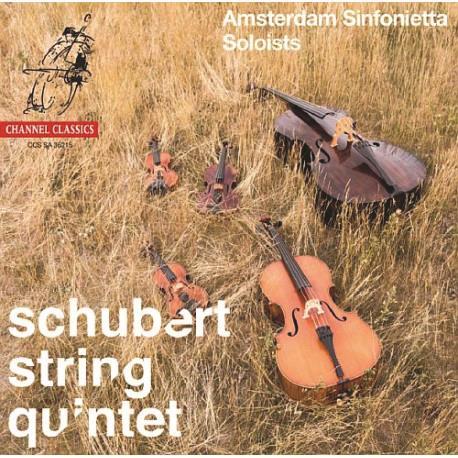 The Strad Issue: February 2016
Description: Schubert's chamber masterpiece in an arrangement with added bottom
Musicians: Amsterdam Sinfonietta Soloists, Rick Stotijn (double bass)
Composer: Schubert
Taking inspiration from a Sliding Doors vision of history – Domenico Dragonetti and Schubert as bosom buddies – the latest recording from the Amsterdam Sinfonietta takes on the String Quintet in C major. The difference is that this is an arrangement by Marijn van Prooijen, which replaces the second cello with the superlative talents of bassist Rick Stotjin, who spans the extremes of register on an instrument tuned in 4ths with a high C string.
Of all chamber works, the Quintet is justly celebrated as one of the most convivial. The dynamic contours and varying textures demand a great degree of sympathy between the players, and Schubert's sense of harmony was such that, even at its lowest, the second cello part is afforded a driving role. It seems fitting, then, that the bass is finally being invited into the fold, reflective of a sea change in attitudes that would have regarded such a recording as a mere novelty exercise just a few years ago.
Inevitably we miss the clarity and brilliance of the cello duets, and there is a slightly leaden quality to the turbulent section of the Adagio, which loses some of its marvellous spontaneity as a result. However, there is a thrill in hearing that low rumble of storm clouds underneath the sunny disposition of the Allegro, and there is a beefed-up intensity to the scherzo that makes it more rousing than ever.
For the most part this is a clear recording, though it deserves a set of speakers with a decent bass response to capture the wonderful resonance of Stotjin's instrument.
Tom Short