Schubert 200th-anniversary project has a good start with inspired programming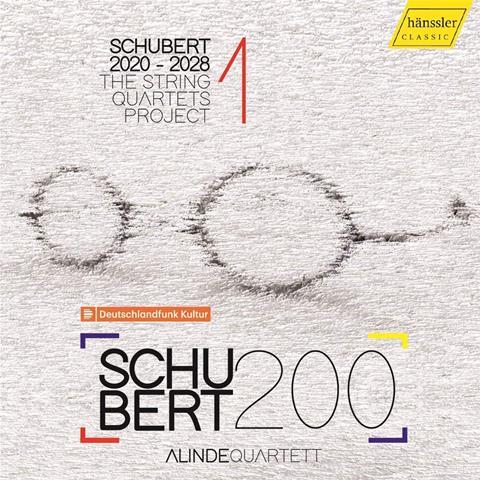 The Strad Issue: November 2020
Description: Schubert 200th-anniversary project has a good start with inspired programming
Musicians: Alinde Quartet
Works: Schubert: String quartets: in E flat major D87 and G minor/B flat major D18; Quartettsatz in C minor D703. Kotcheff: Unbegun (homage to Schubert)
Catalogue number: HÄNSSLER HC19071
Looking ahead to 2028 and the 200th anniversary of the composer's death, the Alinde Quartet will annually release a disc of Schubert string quartets for the next eight years, alongside a specially commissioned work. It opens the series with two of Schubert's earlier works (nos.1 and 10 in the official numbering), composed in c.1810 and 1813 respectively and premiered informally at home by members of his family (including Schubert on viola), when the composer was still in his early to mid-teens.
Finding the ideal sound world for Schubert's quartets is by no means easy, yet the Alinde strikes a near-ideal balance between internal clarity and textural warmth, shone through by sparkling intonation. Interpretatively it is very much the same story – the players shape Schubert's unashamedly Mozartian phrases with disarming naturalness and affection, yet retain a buoyant, crisply articulated classicism without a hint of self-conscious HIP. Gentler on the ear than the Melos (DG), more intimate in scale than the Leipzig (MDG), sweeter-toned than the Kodály (Naxos) and utterly captivating in the hurtling emotional changeability of the Quartettsatz, this marks a most auspicious start to their complete cycle.
Thomas Kotcheff's ten-minute Unbegun, composed especially for this series, is based on the first six bars of Schubert's 1827 song Alinde D904 (from which the quartet get its name), its startling glissandos and sense of galvanising drama finding release in an overwhelming sunshine outburst of open strings. Placed after D87 and just before the Quartettsatz, it thrillingly offsets the music that surrounds it, providing ample justification for the quartet's inspired programming.
JULIAN HAYLOCK