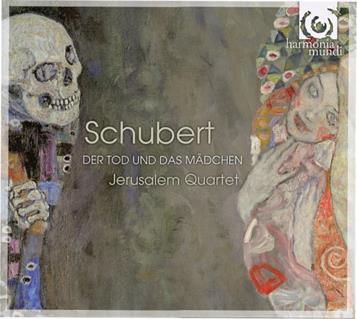 The Strad Issue: January 2008
Musicians: Jerusalem Quartet
Composer: Schubert
Few things in music are more cheering and exciting than a young ensemble renewing old warhorses with skill, vigour and musicality. With these two performances, the Jerusalem Quartet reaches a standard that few predecessors have achieved.
The beauty, unanimity, internal balance and rhythmic impetus are all evident in the marvellous Quartettsatz. The players are eager to get on with things and if there is a hint of mannerism in the way the lyrical second subject is played each time, one must allow such fine musicians some latitude.
An excellent dynamic range is apparent at the start of the 'Death and the Maiden'. I am not sure about the big exposition repeat – it always comes clunking in. At least these players justify it better than anyone else.
The ending of the first movement is beautiful and then the song theme is carefully and convincingly enunciated, with relatively little vibrato so that the four voices produce an organ-like sonority. Ideally I would like a more constant feeling of tempo running through the variations – the cellist rather holds his one back – but they are splendidly played and the movement ends sublimely.
The Scherzo is very good: the Trio is pulled back a little but the da capo is superbly timed. Finding an ideal tempo for the Presto finale, the musicians keep going wonderfully, judging the slower moments with teasing precision and finishing in whirlwind fashion. The recordings, not quite on the exalted level of the playing, are pretty atmospheric, with a reasonable bass line.
TULLY POTTER