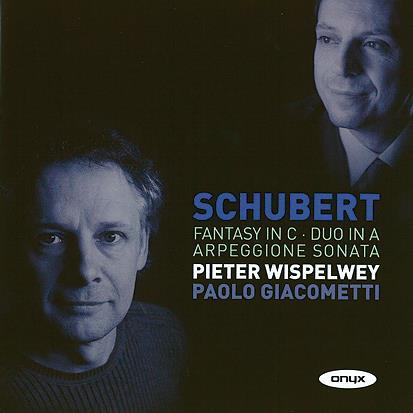 The Strad Issue: January 2010
Musicians: Pieter Wispelwey (cello) Paolo Giacometti (fortepiano)
Composer: Schubert
Is period instrumentation a marketing ploy, and how far does it become an integral part of the whole interpretation? For the first few bars of this recording I missed the velvety hues of the modern piano as well as the steely brilliance of metal strings. Yet the reduced timbre of the Las Grassa 1815 fortepiano – even a faintly clangourous articulation – coupled with the intimate gestures of gut strings on a 1760 Guadagnini lure one into a charming and honest musical world with veiled guile, to the extent that a return to the polished timbres of modern instruments would be a loss. Pieter Wispelwey also invites two works from the violin repertory into the cello's domain. Issues of transcription are well rehearsed; the most important criterion is always how well the parts lie in the new format. One must be frank; Wispelway is a mean virtuoso and the fleet-footed passagework of the Duo's presto scherzo or the Fantasy in C's challenging Allegro vivace will undoubtedly sound more convincing under his winning fingers than with players of a more limited stature. Nonetheless, the tessitura lies well, and the uninitiated could well think the cello the original inspiration.
In this warmly recorded Schubert disc it is obvious that Wiselway is an artist born to play this composer. The ethereally poetic landscape and poignant melodies suit his lyricism, while Paolo Giacometti has a perfectly honed sense for colouring and voicing the swift changing modulations. It's a winning combination for the 'Arpeggione', yielding a sensitive expression that stays in the mind long after the CD has finished.



Joanne Talbot