The Dutch cellist has won the recognition alongside pianist Paolo Giacometti for five-album survey of duos, including arrangements of works not written for cello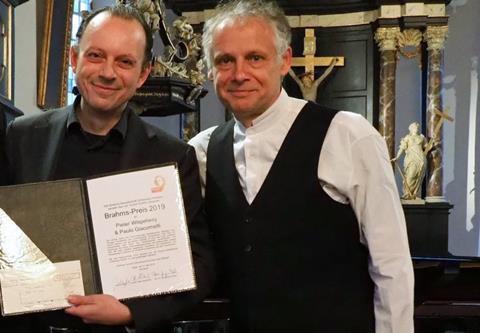 The Brahms Society of Schleswig-Holstein has awarded its 2019 Brahms Prize to cellist Pieter Wispelwey and pianist Paolo Giacometti. The pair were chosen for their long-term project to record the complete duo works by Schubert and Brahms, including arrangements of the sonatas for violin, viola, flute and clarinet.
Wispelwey and Giacometti were given the €10,000 prize on 17 May at a recital at St Bartholomew in Wesselburen, where they perfored Schubert's Arpeggione sonata and Brahms's Cello Sonata no.2 in F major.
The Brahms Society of Schleswig-Holstein was founded in 1987 by Justus Frantz and Yehudi Menuhin in the town of Heide, in order to renovate the Brahmshaus and to preserve its contents as a museum.
Its annual prize is given to 'renowned artists or respected institutions that have made a special contribution to the work of Johannes Brahms or to promoting young musical talent'.
Previous winners include Leonard Bernstein, Dietrich Fischer-Dieskau, Anne-Sophie Mutter, Christian Tetzlaff, Sabine Meyer, Lars Vogt, Thomas Quasthoff, Christoph Eschenbach and, last year, the conductor Herbert Blomstedt.
Pieter Wispelwey and Paolo Giacometti talk about their collaboration