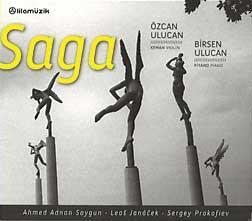 The Strad Issue: January 2014
Description: A trio of major 20th-century violin works from a resourceful Turkish duo
Musicians: zcan Ulucan (violin) Bírsen Ulucan (piano)
Composer: Saygun, Janácek, Prokofiev
Ahmed Adnan Saygun was among the first generation of Turkish composers to use the essence of traditional folk melodies dressed in West European garb. His Suite, from 1950, is fashioned in rhythms and sounds that have their roots in the Orient. I guess this very likeable score will seldom receive a more persuasive performance than this from the brother and sister Özcan and Bírsen Ulucan, with the violinist's sweet-centred tonal quality proving ideal for the score's more sensuous moments.
The link between the disc's three works is a shared objective, spread over three generations, to advance music within the realms of tonality. Janácek's Sonata was an audacious score for the 1920s. Compared with today's typically aggressive approach to the work's outer movements, Özcan seeks out the beauty and sadness in the score, with his unfailingly perfect intonation and Bírsen's limpid playing portraying the composer's tormented feelings in his unrequited love. It is an alternative view that proves deeply satisfying. The tension and nervous energy that are part of Prokofiev's First Sonata are never taken to excess, and among the many joys to delight in are Özcan's flights of fantasy into the upper stratosphere that bring the utmost delicacy to the opening movement.
The disc is recorded in a very realistic concert hall acoustic.
DAVID DENTON