Quartet celebrates folk connections with luminous finesse and a spicy kick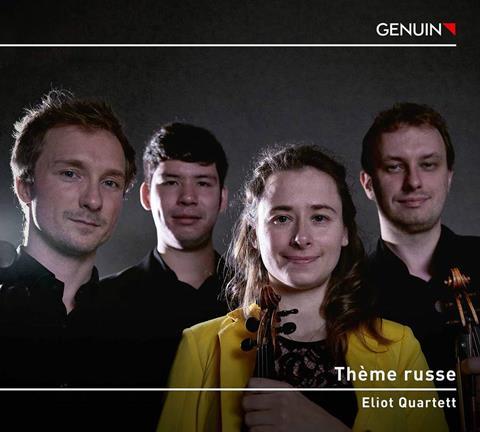 The Strad Issue: November 2021
Description: Quartet celebrates folk connections with luminous finesse and a spicy kick
Musicians: Eliot Quartet
Works: Beethoven: String Quartet no.7 in F major op.59 no.1 'Rasumovsky'. Prokofiev: String Quartet no.2 in F major op.92
Catalogue number: GENUIN GEN21752
It's no surprise, perhaps, that when the Eliot Quartet is named after T.S. Eliot's Beethoven-inspired Four Quartets, it's again to Beethoven that the four players have turned for this warmly recorded second album with Genuin. The connection they draw between Beethoven's Seventh Quartet and Prokofiev's Second is their respective folkloristic elements – Russian with Beethoven, and Caucasian with Prokofiev.
One further similarity that the booklet notes are keen to draw our attention to is the quartets' 'rough-edged sound'. Which is interesting, when the actual readings are anything but. In fact it's the sheer finesse and light delicacy that strike at the opening of the 'Rasumovsky'. There's also the lyric flow with which cellist Michael Preuss presents its theme; and his high-register melody in the Prokofiev's central love song is another stand-out moment, as violinists Maryana Osipova and Alexander Sachs weave their equally ear-pricking luminous, filigree figures around him.
Then when polished beauty is the norm, where the players suddenly hammer roughly down on the first dissonant chord of the Prokofiev finale it's a delicious shock, and the ensuing rustic dancing delivers a gripping succession of switches between delicate beauty and sharp kick.
CHARLOTTE GARDNER