Malcolm Layfield's position 'untenable' amid sexual misconduct allegations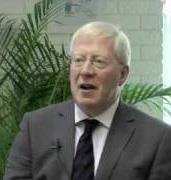 Malcolm Layfield has quit his post as head of strings at the Royal Northern College of Music (RNCM) in Manchester. Layfield (left) is one of nine current and and former teachers from Chetham's School of Music and the RNCM who are being investigated by police over allegations of sexual misconduct with students.

The RNCM released a terse statement yesterday evening announcing Layfield's departure. It read: 'Professor Malcolm Layfield has left his post as Head of School of Strings at the Royal Northern College of Music, his position at the College having become untenable.'

The development came as around 200 ex-Chetham's students and teachers and other musicians signed an online petition demanding an inquiry into sexual and other abuse at specialist music schools. Among the performers who have signed are violinists Lisa Batiashvili and Sophie Solomon, and cellists Steven Isserlis and Matthew Barley.