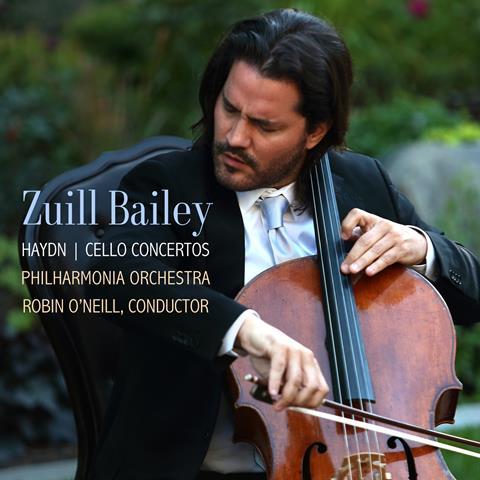 The Strad Issue: August 2018
Description: Live performances that lack a little on repeated hearings
Musicians: Zuill Bailey (cello), Philharmonia Orchestra/Robin O'Neill
Works: HAYDN Cello Concertos: no.1 in C major, no.2 in D major
Catalogue Number: STEINWAY & SONS 30094
Guy Johnston's inspiration for this disc was the 300th anniversary in 2014 of his cello, made in Rome by David Tecchler. While taking the instrument back to the Eternal City, to record the Respighi work there, he also chose pieces with links to places that have influenced his own career (see article in the May 2017 issue).
Without a doubt Zuill Bailey is a consummate technician, purring along on his 1693 'Schneider' Gofriller cello, nimbly dancing about the cascades of arpeggios and scale passages with élan. Yet this rather old-fashioned reading adds little to the extensive body of recordings available. The album offers poor value at 48 minutes, although you'd nevertheless be happy to hear these performances live.
Inevitably, the CD format invites repeated scrutiny as a performance document. Bailey is certainly not helped by the lugubriously heavy orchestral articulation from the Philharmonia, with the bass unduly prominent. Overall the readings miss much charm and eloquence, with double-stops largely attacked aggressively. By contrast, the Adagios in both concertos are tenderly portrayed, allowing Bailey's lyrical qualities as a cellist to shine. The ensuing opening of the C major finale wavers slightly in tempo, and the numerous scale passages perhaps need more shape to leap over the orchestra.
Similarly, the repeated sequences of the D major finale beg for a greater variety of colour. Cadenzas are a topic of their own, many printed editions offering ridiculously lengthy solutions, particularly Gendron's version of the D major in the Schott edition. These ones are also lengthy with over-romantic gestures, and feel rather like a dollop of ice cream on meat – an acquired taste.
JOANNE TALBOT