Some anachronistic elements mar this Baroque recital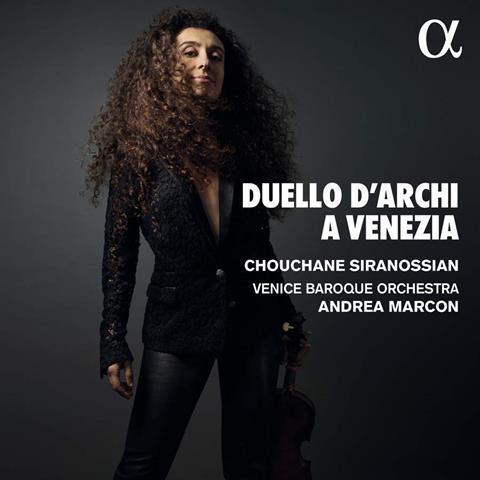 The Strad Issue: July 2023
Description: Some anachronistic elements mar this Baroque recital
Musicians: Chouchane Siranossian (violin) Venice Baroque Orchestra/Andrea Marcon (harpsichord)
Works: Locatelli: Violin Concerto in C minor op.3 no.2. Tartini: Violin Concerto in F major D61. Veracini: Concerto in D major à 8 stromenti. Vivaldi: Violin Concerto in D major ('Grosso Mogul') RV208
Catalogue number: ALPHA ALPHA935
Chouchane Siranossian's extrovert, electrifying and powerfully driven performances reflect the diversity of her violin training. 'Modern' technique often infiltrates her historically aware intentions, notably in the aggressiveness with which she attacks some solo passages in the outer movements of the Veracini and Tartini works. However, her left hand is commendably fleet and accurate, whether executing the stratospheric passagework of Locatelli's Largo, the devilish trills and extempore ornamentation in the opening Allegro of the Tartini concerto or the daunting demands of the various capriccios, not least those in Vivaldi's and Locatelli's works.
She is thoughtfully expressive in Tartini's melancholy Grave, but her gypsy-style introduction to Veracini's Largo and her overstated approach to Vivaldi's central Recitativo seem anachronistic, the latter interpretation incorporating slides, note-bending and, it seems, anything to dramatise the composer's chromatic twists and turns. The gaping void between the capriccio and final tutti in both Vivaldi outer movements may have been intended to serve a similar theatrical purpose.
Andrea Marcon and his colleagues, some of whom take prominent solo roles in the Veracini, provide incisive, polished support. The recording, at times astringent in a generously reverberant acoustic, seems unnaturally balanced for the various Veracini soloists. Some faulty tracklist proof-reading has sanctioned the incorrect mode for Locatelli's op.3 no.2.
ROBIN STOWELL