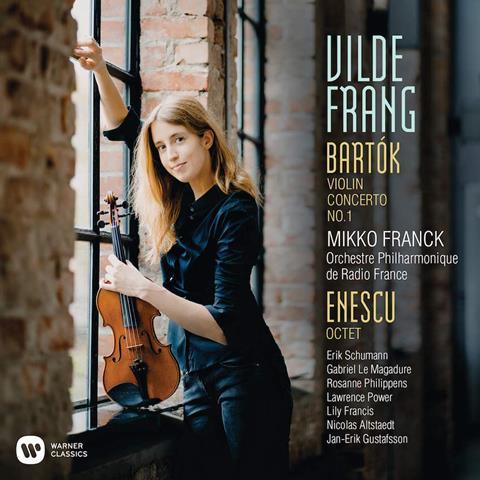 THE STRAD RECOMMENDS
The Strad Issue: February 2019
Description: Compelling playing from a dedicated violin soloist and friends
Musicians: Vilde Frang (violin), Orchestre philharmonique de Radio France/Mikko Frank Erik Schumann, Gabriel Le Magadure, Rosanne Philippens (violins) Lawrence Power, Lily Francis (violas) Nicolas Altstaedt, Jan-Erik Gustafsson (cellos)
Works: BARTÓK Violin Concerto no.1; ENESCU Octet
Catalogue Number: WARNER CLASSICS 9029566255
How thrilling that Vilde Frang and friends have given us a performance to match the constant and staggering invention of Enescu's Octet. Despite the talent in the line-up – Lawrence Power, Nicolas Altstaedt, Jan-Erik Gustafsson for starters – this is no all-star performance. It is a demonstration of how eight humans focused on the same ends can sound exquisite as individuals and as one.
Frang threads the Octet into life with similar focus. The bustle of the second-movement Très fogueux is all the more rewarding for its tight control (those drone-like chordal outbursts have been worked at hard) and the way the slow third movement builds from throbbing tenderness to tension and then expanse is astonishing. It's a bold tempo for the finale but the articulation is superlative, which fuels the momentum.
We've had a cascade of Bartók concertos recently but Frang's version is welcome, if not superlative, coming from a player who always has something to say. The gradations of her vibrato in the concerto's opening are telling; her tone is consistently alluring and individual and her phrasing always offers an alternative to standard rhetoric.
The swirling colours of the Orchestre philharmonique de Radio France are as evocative as the recesses in a Munch painting, but the ensemble is neither as emphatic nor edgy as it could have been. That might count against the Bartók, but it's Frang's selflessness, most fully realised in the Enescu and her decision to include it, that make this essential.
ANDREW MELLOR