A young quartet on characterful, energetic form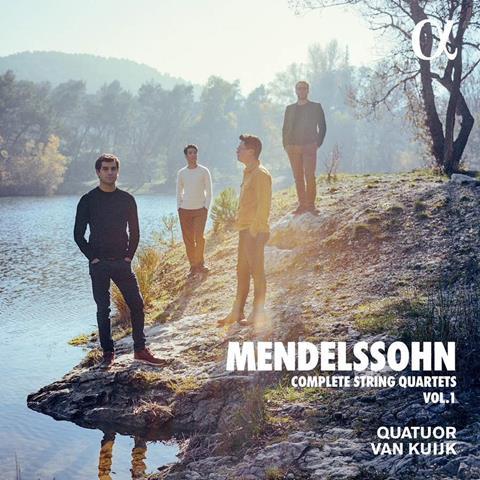 The Strad Issue: March 2023
Description: A young quartet on characterful, energetic form
Musicians: Van Kuijk Quartet
Works: Mendelssohn: Complete String Quartets vol.1: no.1 in E flat major op.12, no.2 in A minor op.13, no.3 in D major op.44 no.1
Catalogue number: ALPHA ALPHA873
Time was, not so very long ago, when string quartets tended to pass over the masters of the mid-19th century – Mendelssohn and Schumann especially – in favour of the First Viennese School and the late-Romantic and early modern French and Russian/East European repertoire. Schumann's music was too often dismissed as the product of a sick mind, while Mendelssohn's early quartets were too derivative, the later ones evidence of creative decline.
That has all changed, and happily there are many younger ensembles intent on exploring these mid-century masters. Fresh from its much-admired Mozart, the Van Kuijk Quartet has become the most recent in a slew of youthful groups to dive into this repertoire, in the footsteps of the Doric, Danish, Schumann, Consone, Calidore, Minguet and Tippett to mention just a few, all of which have released Mendelssohn recordings over the past few years.
The Van Kuijk offers its characteristic accuracy of articulation and intonation, along with an observance of the composer's expressive markings that really makes the music leap off the page. For all that he pays tribute to his influences, Mendelssohn is always his own man and the Van Kuijk responds vividly to the quicksilver swings of mood in the early quartets, ranging from sonorous and hymnlike to agitated and passionate, from chaste and folk-like to scamperingly playful. The players are just as telling in the drama of the D major op.44 no.1.
Three quartets on a single disc is generous; the companion volume is out imminently and may well place this set among the most desirable of recent cycles.
DAVID THREASHER