The beautiful Lundsgaard Estate on the Danish island of Funen is the setting for an imaginative summer chamber music festival, as Emma Baker discovers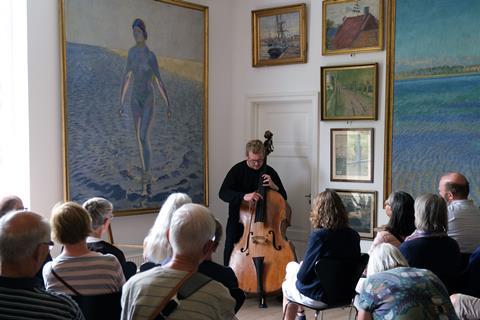 Discover more Featured Stories like this in The Strad Playing Hub.
Read more premium content for subscribers here
The air is hazy with crop dust from threshing machines as I arrive in Kerteminde, a small harbour town flanked by farmland, 90 minutes by train west of Copenhagen. Denmark is at the tail end of a heatwave and teenagers are jumping into the sea off the bridge that connects the town with the island of Funen, while others swim or sunbathe on the banks.
I am here for Chamber Music at Lundsgaard, a four-day festival of eight concerts and three talks in early August 2022, spearheaded by artistic directors Trio con Brio Copenhagen – sisters Soo-Jin Hong (violin) and Soo-Kyung Hong (cello), and Jens Elvekjaer (piano, and husband of Soo-Kyung). This festival has been held in and around the beautiful Lundsgaard Estate, a mile from Kerteminde, since 2015. For 2022 the programme is built around the theme of Inheritance, tracing the lineage of musical influences from Bach to 20th-century composers. Such a broad remit, of course, could mean that almost anything goes repertoire-wise, so it's a testament to the programming and the first-rate artists that each concert makes sense as an individual concept.
As well as performances by its artistic directors, the festival features established violinists Nikolaj Szeps-Znaider and Andrej Bielow, violist Nils Mönkemeyer, cellist Natalie Clein and the Danel Quartet plus up-and-coming young artists violinist Michael Germer, violist Nicholas Swensen and double bassist Einars Everss. Pianist Enrico Pace, oboist Soo-Eun Hong (sister of the Trio's string players) and presenter Esben Tange complete the line-up.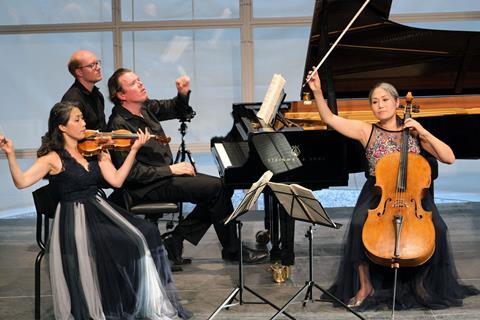 The best way to get around in this part of the world is by bicycle, and when I arrive at my accommodation in Kerteminde there is a three-speed boneshaker waiting for me. From there it's a gentle pedal along the coast road to Lundsgaard, where a magnificent white stuccoed manor house looks out over the sea from within its estate of fields and forest.
Lundsgaard's old farm buildings, built around a large, cobbled square, are now an arts centre, café and hotel. The majority of the festival's concerts are held in the converted barn, Anexet, a combination of old wooden beams and new steel and glass. It has a marvellous acoustic, as I soon find out – clear and direct.
The first concert, titled Roots, introduces guest artists the Danel Quartet. This ensemble has recorded all of Shostakovich's quartets to considerable acclaim and makes a striking impression with a Shostakovich Seventh that balances the group's characteristically elegant phrasing with the composer's aphoristic intensity. Leader Marc Danel rises and falls with the music, seeming almost to levitate from his chair. It is followed by a muscular performance of Brahms's Piano Quintet op.34, featuring Szeps-Znaider, Swensen and the Trio con Brio Copenhagen.
The next day dawns cool and rainy, but clears just in time for the afternoon's 'Wandering Concert' at the Johannes Larsen Museum. Larsen (1867–1961) was a Danish nature painter who with his artist wife Alhed built a house by the sea in Kerteminde. Now a museum and purpose-built art gallery, it's an idyllic spot: the house is beautifully preserved, pear and mulberry trees drop their fruit in the garden, and a flock of Indian Runner ducks wander free on the grass.
The audience is split into five groups and led around the grounds to experience short works in different environments. Swensen performs two movements of Hindemith's Solo Viola Sonata op.25 no.1 from the verandah of the Larsens' house. Latvian double bassist Everss plays (and vocalises) Pēteris Vasks's environmentally themed Bass Trip (2003) surrounded by huge, striking canvases in the studio. And in the art gallery, young Danish violinist Michael Germer demonstrates his bowing technique in Tárrega's Recuerdos de la Alhambra. He later tells me his right arm was aching by the fifth iteration.
Back at Lundsgaard, the evening concert features a collection of 'final' works. It opens with Bach's last chorale prelude, Vor deinen Thron tret ich hiermit BWV668, arranged for low string quartet (two violas, cello and double bass), with violin and oboe playing up in the gallery. The result is so organ-like, with the deep bass pedal and the chorale singing high and clear from above, that there are moments when I could swear I'm in a cathedral.
The result is so organ-like that there are moments when I could swear I am in a cathedral
This serene sonic delight is followed by Shostakovich's 15th Quartet. 'Play the first movement so that flies drop dead in mid-air and the audience leaves the hall out of sheer boredom' were the composer's forbidding instructions, and the Danel Quartet holds the audience's attention with an unwavering, almost painful intensity. (Later, at the palate-cleansing night concert held in Kerteminde's 14th-century church, they play the Nocturne from Borodin's String Quartet no.2, demonstrating that they can also do pure melody.)
The centrepiece of the festival is a musical adaptation of Ludvig Holberg's classic novel Niels Klim's Underground Travels (1741). It's a political satire presented as an absurd fantasy, originally written in Latin to bypass the censors. In a tale that's like Gulliver's Travels crossed with Alice's Adventures in Wonderland, the hero falls down a hole and finds himself in undiscovered subterranean lands. For this Saturday-afternoon performance, the text is narrated by Danish actor Søren Saetter-Lassen, with illustrative musical interludes, ranging from Bizet to Bernstein, provided by the musicians. As it is presented in Danish, of which I know none, many plot subtleties pass me by, but one of my hosts whispers a commentary of key moments in my ear, so all is not lost. I would love to hear it in English translation, or with surtitles, as the Danish audience clearly loves it.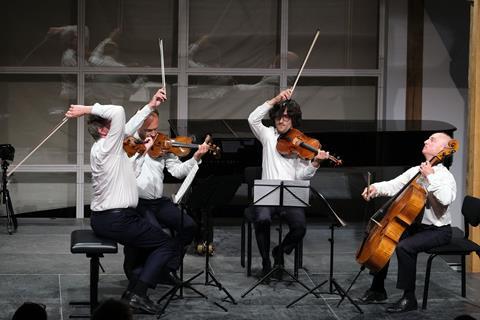 It's back to music without words for an evening concert titled Rebellion. Trio con Brio Copenhagen opens with a sparkling performance of Beethoven's First Piano Trio, and Mönkemeyer gives a rich-toned account of Rebecca Clarke's Viola Sonata. The Danel Quartet's performance of Weinberg's Sixth String Quartet is so forceful that second violin Gilles Millet breaks a string, but the musicians take the delay in their stride.
I have a train and plane to catch on Sunday so the morning concert is my last. Germer plays Franck's Violin Sonata with a radiant and supple tone but it's Clein's expressive performance of Britten's Solo Cello Suite no.3 that lingers in the memory, from the sombre opening to the Bach quotations that break through the dreamlike textures like sunlight, to the profound final statement of the Russian Orthodox Kontakion of the Departed.
And fittingly, to 'Earth' we will return (in the both the spiritual and environmental sense) as the theme of the 2023 festival (3–6 August). With guest artists including violist Maxim Rysanov and the Modigliani Quartet, there's plenty to look forward to.