Fenella Humphreys employs her customary imaginative flair and luminous palette of tone colours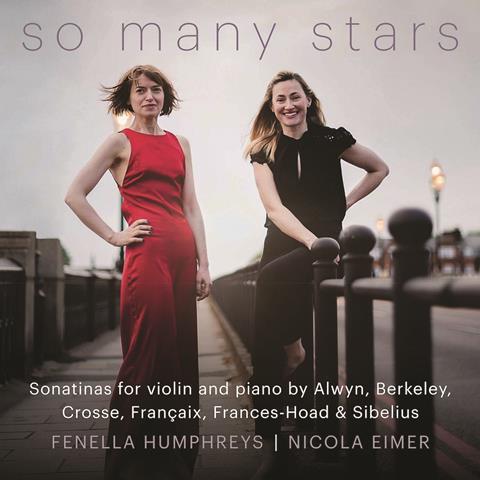 THE STRAD RECOMMENDS
The Strad Issue: April 2019
Description: A cluster of sonatinas that reaches for the stars
Musicians: Fenella Humphreys (violin), Nicola Eimer (piano)
Works: L. BERKELEY Sonatina op.17, FRANÇAIX Sonatine, FRANCES-HOAD Violin Sonatina, SIBELIUS Sonatina in E major op.80, CROSSE Violin Sonatina, ALWYN Sonatina
Catalogue Number: STONE RECORDS 5060192780826
Musings from Sibelius on his fondly remembered childhood inspire the title of this disc, So Many Stars, and his shimmering Sonatina is at the heart of this fine collection of 20th- and 21st-century gems. Fenella Humphreys employs her customary imaginative flair and luminous palette of tone colours to tease the beauty out of a set of pieces that are compact in scale but not in ambition.
The vague disquiet and melancholy of Lennox Berkeley's Sonatina is gripping from the outset. Humphreys revels in its carefully nuanced light and shade, finely matched by eminent sensitivity from pianist Nicola Eimer. There are many wonderful moments. Touches of Ravel abound in Françaix's Sonatine, particularly in the sparkling final movement, where Humphreys makes light work of its chimerical runs, melting away into gorgeous lyricism.
A charismatic Sonatina from British composer Cheryl Frances-Hoad is a revelation, from the viola-like richness and intensity of the opening movement to the dancing harmonics of the second.
After the richly detailed beauty of the Sibelius comes scampering originality from Gordon Crosse, and finally the brittle romancing of Alwyn's early Sonatina. Throughout, the recorded sound combines warmth and immediacy with all the intimacy of a live performance, revealing Humphreys and Eimer at their stellar best.
CATHERINE NELSON
Sibelius's shimmering Sonatina is at the heart of this fine collection of 20th- and 21st-century gems: