String Quartets in G major op.54 no.1, C major op.20 no.2 & G minor op.74 no.3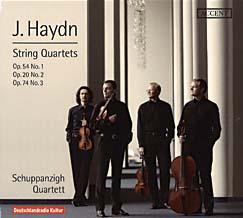 The Strad Issue: January 2014
Description: Proof that 'mainstream' period playing isn't always enough in itself
Musicians: Schuppanzigh Quartet
Composer: Haydn
The performance on this well-recorded and worthwhile disc testifies to the acclaim the Schuppanzigh Quartet has won for its period-instrument performances of Classical works, including a Diapason d'Or for two other Haydn quartet discs. The playing throughout is precise and intelligent, and, as one would expect, it acknowledges current notions of 18th-century performing style – sparing vibrato, percussive staccato accentuation, and a stress upon clarity and declamation.
This could be worthily dull were it not for the players' instinctive approach to Haydn's often whimsical music, especially evident in the first movement of op.74 no.3 and the suitably humorous fugue finale of op.20 no.2. Op.54 no.1 is the least interesting here, but the counterpoising of lyricism and accentuation, as in its slow movement, is undeniably first-rate.
At times, balance can be questionable – first violinist Anton Steck's top notes, including harmonics in the third movement of op.20 no.2, seem a bit weak, and there is of course the slightly 'woody' quality to the sound (the downside of period instruments). These things do not bother me personally, but I have to confess to feeling a bit disappointed that there isn't a bit more in the way of historical experimentation here.


David Milsom