Mid-century rarities brought vividly to life by a winning duo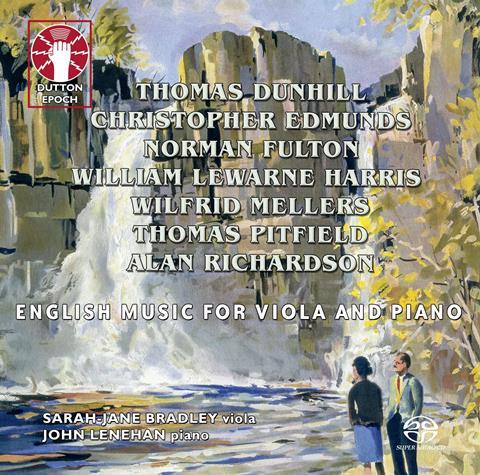 The Strad Issue: April 2022
Description: Mid-century rarities brought vividly to life by a winning duo
Musicians: Sarah-Jane Bradley (viola) John Lenehan (piano)
Works: Music by Dunhill, Edmunds, Fulton, Harris, Mellers, Pitfield and Richardson
Catalogue number: DUTTON EPOCH CDLX 7390
With the viola music written in early 20th-century England for Lionel Tertis by the likes of Arnold Bax, York Bowen and Benjamin Dale now reasonably well known, it's good to be reminded of what came next. The pieces featured on this fascinating recital were composed between 1939 and 1957 for the leading players of the following generation, Watson Forbes and Bernard Shore prominent among them.
Thomas Dunhill's Triptych, still written for Tertis himself, includes some intricate double-stopping typical of his virtuoso style. Composed during the Second World War, the music seems to look back wistfully to happier times. A rousing curtain raiser, Intrada was written in 1939 for Forbes by his long-time collaborator Alan Richardson, as was William Harris's poignant Suite, which was awarded a Tertis Prize at the Royal College of Music in 1952. The opening movement of Wilfrid Mellers's Sonata is an imposing passacaglia redolent of Hindemith which is followed by a melancholy scherzo and a cathartic final dirge. Christopher Edmunds's Sonata, composed for Shore in 1957, is the most recent music on the programme; its somewhat meandering musings suit the viola to a tee. Norman Fulton's classically constructed Sonata da camera and Thomas Pitfield's cheeky Sonatina bring the programme to an exhilarating close.
The tried-and-true partnership of Sarah-Jane Bradley and John Lenehan sound as if they have been performing this rare repertoire for years, authoritatively realising each composer's personal sound world with unerring assurance. A violist himself, producer Michael Ponder provides gorgeous sound and contributes some eloquent booklet notes to boot.
CARLOS MARÍA SOLARE