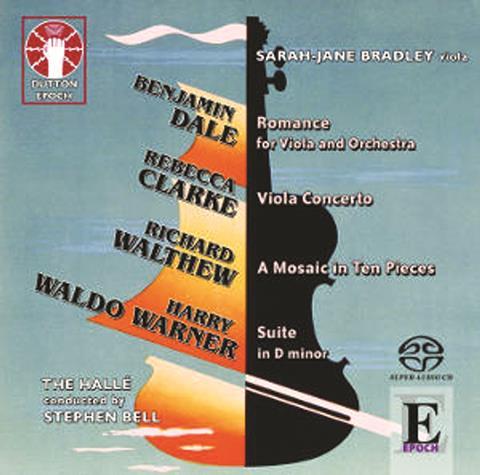 The Strad Issue: November 2016
Description: Four premieres for viola and orchestra, played with character
Musicians: Sarah-Jane Bradley (viola), Hallé/Stephen Bell
Composer: Clarke, Dale, Walthew, Werner
Catalogue number: DUTTON CDLX 7329 (SACD)
In this first recording of Benjamin Dale's Romance in its luxuriant orchestral garb, Sarah-Jane Bradley is fully immersed in the composer's over-ripe idiom, helped by a clever choice of fingerings modelled on the idiosyncratic style of Lionel Tertis,
for whom it was written: portamento reigns supreme, much to the benefit of Dale's 'unending melodies'. Conversely, the lovely minute-long miniatures that make up Richard Walthew's A Mosaic are treated with the greatest care, lest they be crushed by too much emotion. The Hallé under Stephen Bell adapts ideally to the two composers' diametrically opposed sound worlds.
Harry Waldo Warner, long-time violist of the London String Quartet and a reasonably successful composer in his day, didn't live to complete the orchestration of his Suite for viola and strings, written towards the end of his life, but the project has now been finished at the instigation of the late John White. Unsurprisingly, Warner's composition fits the viola like the proverbial glove, especially its modally tinged central movement. Bradley shapes the multiple-stopped cadenza beautifully and shines in the concluding Caprice.
Ruth Lomon's orchestration of Rebecca Clarke's popular Viola Sonata finds all the appropriate colours, but then so would a first-rate pianist. In spite of a brilliant, idiomatic performance by soloist and orchestra, I am not wholly convinced of the necessity of this exercise. But whatever my reservations in this respect, I have none about Bradley's characterful playing, the seductive sound of her 1619 Nicolò Amati viola well caught by a vivid recording that gives it just the right amount of spotlighting.
Carlos María Solare