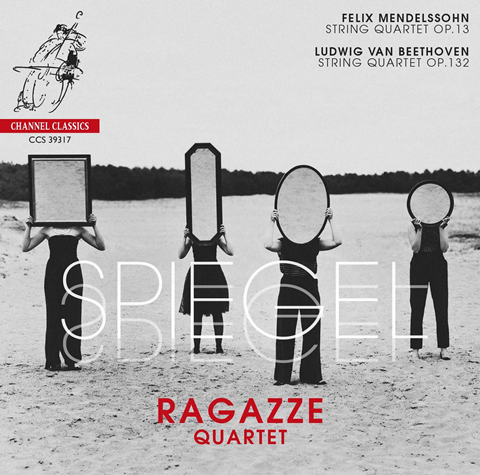 The Strad Issue: April 2018
Description: A return to the classical mainstream for these adventurers
Musicians: Ragazze Quartet
Works: MENDELSSOHN String Quartet no.2 in A minor op.13; BEETHOVEN String Quartet no.15 in A minor op.132
Catalogue Number: CHANNEL CLASSICS CCS 39317
Following collaborations with a percussion ensemble and jazz trio on its previous disc, the Dutch Ragazze Quartet returns to the classical mainstream. This Mendelssohn/Beethoven pairing highlights connections of material and form between the two pieces, including the appearance in both of a stormy recitative for the first violin.
The Adagio introduction to Mendelssohn's first movement, and the slow movement itself, lack warmth and nuance, and the fugue of the latter could have a more purposeful expression. The quartet produces a lightness of touch in the Intermezzo, especially its elfin Trio section (which demonstrates the detail and balance of the recording), but the first violin's slight looseness of rhythm in the main subject is grating. The dramatic and buoyant Presto opening of the last movement is the highlight here.
The best performances of Beethoven's op.132 can create a sense of awe and radiant wonder in the central hymn of thanksgiving. That doesn't happen here, although the group employs a purity of sound that gets it partway. The Ragazze is a quartet that seems on more solid ground in the tangible, such as in the fourth, Alla marcia, movement. The players prove less convincing in the more atmospheric sections, the searching chromaticism of the first movement's introduction being one more example.
EDWARD BHESANIA