Outstanding late Haydn from a re-energised quartet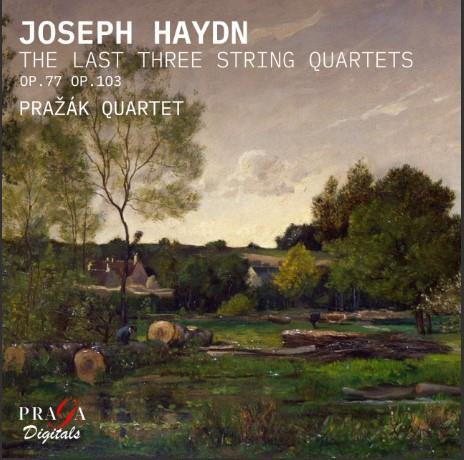 THE STRAD RECOMMENDS
The Strad Issue: June 2022
Description: Outstanding late Haydn from a re-energised quartet
Musicians: Pražák Quartet
Works: Haydn: String Quartets: in G major op.77 no.1, in F major op.77 no.2, in D minor op.103.
Catalogue number: PRAGA DIGITALS PRD 250 420
This disc, in memory of Praga founder Pierre E. Barbier, marks the label's return after a hiatus and is the first release from the Pražák Quartet after the group's partial reconstitution two years ago: leader Jana Vonášková-Nováková and founding violist Josef Klusoň now being joined by Marie Fuxová (ex-Pavel Haas) as second violinist and Jonáš Krejčí (ex-Škampa and Petersen) as cellist.
The players erupt into the G major's rumbustious Allegro moderato with a good tempo, excellent style and lovely rhythm. The phrasing of the Adagio has breadth and the playing is Elysian, with a wide dynamic range and real profundity. The Menuetto is robust, with its Trio keeping up the tension, and the Presto allows no relaxation in its headlong progress.
The opening tempo is again ideal in the more philosophical F major, with its inviting, beckoning main theme. A characterful Menuetto, with a quiet contrasting Trio, takes us to Haydn's last great set of variations, wonderfully played. Everyone is at full tilt in the bright, sparkling finale.
All we have of the putative op.103 Quartet is an Andante grazioso, firmly etched here, and a granite-like Menuetto, among Haydn's finest, with a more yielding Trio. The recordings, from Prague's familiar Domovina Studio are superb. Enthusiastically recommended.
TULLY POTTER