Tim Homfray attended the International Henryk Wieniawski Violin Competition in the graceful Polish city of Poznań, and discovered an impressive collection of competitors during the final rounds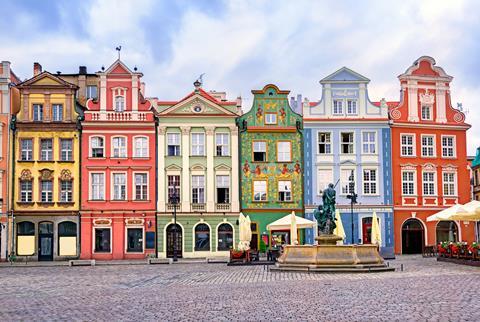 Discover more Featured Stories like this in The Strad Playing Hub
Read more premium content for subscribers here
Poznań, the beautiful Polish city midway between Warsaw and Berlin, is rather taken with Wieniawski, although the celebrated violinist doesn't seem to have spent much time there. There is a street named after him, there are various plaques, and if you fly there you arrive at Poznań–Ławica Henryk Wieniawski Airport. Since 1952 it has also been the home of the International Henryk Wieniawski Violin Competition, whose inaugural event in Warsaw in 1935 famously had Ginette Neveu and David Oistrakh as first and second prize winners. I went there in autumn 2022 to attend a portion of its 16th edition (7–21 October).
Poznań is a graceful city, with a lot of fine Baroque architecture at its centre (and some marvellous buildings that are not as old as they look) and at its heart the Old Market Square (above), with a splendid town hall complete with loggias, a spire and a pair of mechanical goats that appear through a hatch above the clock each midday to have twelve little fights while a trumpeter plays a fanfare.
But I had work to do. I was there for the competition's third stage, in which six finalists had to play one of Wieniawski's concertos and one other, either Beethoven, Brahms, Dvořák or Mendelssohn. They had been whittled down over two rounds from 31 contestants, playing repertoire chosen from a list that included a good deal of Wieniawski, an assortment of sonatas and a compulsory performance of Mozart's Sinfonia concertante K364 – violists were provided.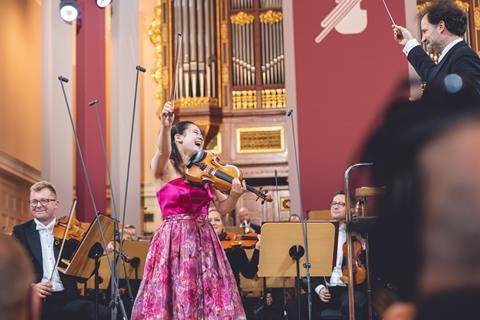 There were eleven on the jury, chaired by violinist Augustin Dumay, who in a press conference was keen to stress the mixture of players, conductors, teachers and others it contained. It was, he said, 'a democracy of minestrone', looking for more than technical perfection: 'I have a lot of respect for craftsmanship, but more respect for art.' As he later told me, their goal was not to highlight 'the violin champions of the week in Poznań, but rather to discover young musicians – sensitive, intelligent, cultured, with a strong personality'. The voting was done by points.
The finals took place over three consecutive evenings in the splendid hall of the Adam Mickiewicz University Auditorium, with Łukasz Borowicz conducting the Poznań Philharmonic Orchestra. The first night, Tuesday 18 October, was shared by South Korean Dayoon You (b.2001) and Hana Chang (b.2002), whose background includes Japan, Singapore and the US. Both already have a clutch of competition prizes under their belts. First to appear was You, playing the Beethoven Concerto. His performance was not perfect but he was interesting and confident, playing with lyrical and rhythmic freedom and a good sense of musical shape, with a sweet tone variously delicate and full-bodied. He was increasingly impressive as he went on. Chang, too, played Beethoven. She took brisk tempos and had a tendency to rush to the ends of phrases. Her performance felt lacking in feeling.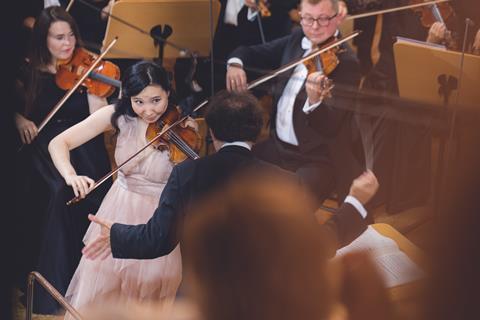 By the time the interval was over, many people had moved around, mercifully including the chap who sat next to me in the first half and played with his phone throughout. In the second half, You performed Wieniawski's First Concerto in F sharp minor, the only finalist to do so. He played with style and occasional technical slips, with fine melodic shaping in the slow movement, before hitting top gear in the impish, dancing finale – light, dynamic and intoxicating. Chang then gave a stunning performance of Wieniawski's Second; it was a thrilling virtuoso workout, and so different from her Beethoven.
From then on it was Wieniawski's Violin Concerto no.2 and Brahms all the way. On Wednesday, Jane Cho (b.1997) from South Korea was full-blooded and passionate in Wieniawski's first movement. Amid the flowing beauty of the central Romance, the animato section was rich-toned and urgent, and she launched into the gypsy dance of the finale with a smile.
Meruert Karmenova (b.1993) from Kazakhstan played with thoughtful and sensitive phrasing from the outset of the Wieniawski, with a real sense of communication. She was graceful in the slow movement, and pushed ahead in the animato section, sometimes almost overtaking Borowicz. In the finale she had suitable virtuoso dash.
Cho began the Brahms with drama and impetus, but in the first two movements her sensibility in shaping lyrical passages was slightly affected by a tendency to bulge on key notes. The finale had great energy, and Cho appeared to be enjoying herself.
In the Brahms, Karmenova had a deft way – supple and communicative – with the internal dynamics of phrases, and she played Kreisler's cadenza with a delicacy to match her bravura. In the Adagio, the long-breathed spans of melody were caressed and captivating, and the finale was vigorous and flowing. Her playing had serious authority.
Hina Maeda's splendid (and smiley) performance of Brahms had the audience on their feet cheering
Hina Maeda (b.2002) from Japan opened Thursday's evening concert with an astonishing performance of Wieniawski, mixing gleeful virtuosity with sheer fun, her playing filled with beauty even in extremis technically. The finale had devil-may-care excitement and sheer melodic charm. And she smiled all the time. Goodness, how she smiled.
The Chinese violinist Qingzhu Weng (b.2001) was not always technically secure in the Brahms Concerto but pleased the audience enough to get a hearty clap after the first movement. Maeda played Brahms with vitality and great personality, with an occasional edge of caprice. She was a bit splashy occasionally, and intonation wasn't always spot-on, but these were minor imperfections which didn't detract from a splendid (and smiley) performance that had the audience on their feet and cheering. Weng's Wieniawski was fluent and spirited, with delicate lyricism in the slow movement and some rich playing up the G string.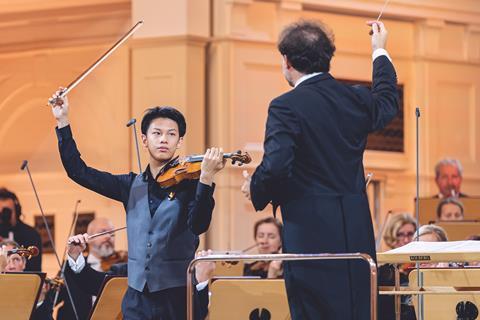 Maeda was the deserving winner, receiving a raft of concerts in Europe running through 2023 plus two tours of Asia, in addition to a cash prize of €50,000 and a gold medal. The second and third prize winners received concerts in Poland along with €30,000 and €20,000 respectively. I had my fingers crossed for Karmenova, who won second prize. Weng came third, and distinction awards were presented to Chang, Cho and You.
In the gala concert on Friday, Weng played the first movement of the Brahms, and Karmenova the second and third movements. Maeda played Wieniawski's Second Violin Concerto again, with great style and that smile bigger than ever.