Carlos María Solare visited the stylish Catalan capital for a slice of string quartet heaven, and to raise a toast to the Casals Quartet's 25th anniversary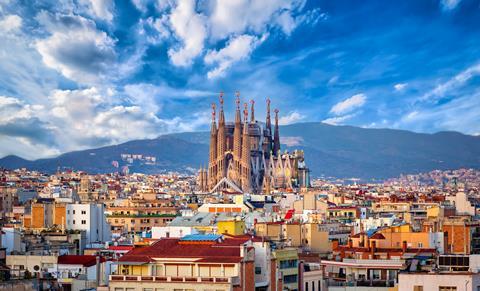 Discover more Featured Stories like this in The Strad Playing Hub
Read more premium content for subscribers here
Strangely, it seems like only the other day that the Casals Quartet was celebrating its 20th season, with Beethoven cycles performed in various musical centres throughout Europe. In late summer, to mark its 25th anniversary, the group held a five-day festival in its home town. The event – which took place from 14 to 18 September – was the second iteration of the quartet's Bienal de Cuartetos de Barcelona, a project launched in 2020 in collaboration with Barcelona's concert hall L'Auditori, where the ensemble has been a constant presence since the venue's inauguration in 1999. Situated in a newer part of the city, L'Auditori is a short walk from that perennial construction site, Antoni Gaudí's Sagrada Família (below). The haunting Gothic Quarter, Barcelona's old town, is also a stone's throw away, as is the welcoming beach, of which I took regular advantage during a week of perfect weather!
As Casals Quartet violist Jonathan Brown explained, the thread running through the biennale was fugue, with all its programmes building up to a complete performance of Bach's The Art of Fugue, which will be the cornerstone of the ensemble's repertoire during its anniversary season. L'Auditori's medium-size hall, seating 600, was packed for the opening concert, a cloakroom overflowing with instrument cases testifying to the encouragingly large number of music students in attendance.
The Casals Quartet launched the festival with Sofia Gubaidulina's Reflections on the theme B–A–C–H (2002), thus already pointing at its conclusion: the piece's Bachian allusions stood out distinctly from its filigree textures, the climactic mega-glissando making for an impressive start to proceedings. The stage was then taken by the Ébène Quartet. A surgical intervention – 'nothing too serious', we were assured by cellist Raphaël Merlin – had prevented the group's violist from travelling, but a deluxe sub was at hand with Hélène Clément from the Doric Quartet. She performed on the Giussani viola formerly owned by Britten via Bridge (as featured in Session Report, August 2022), fitting the ensemble like the proverbial glove while also stepping assuredly into the limelight in Brahms's B flat major String Quartet op.67. Shaped with considerable agogic freedom and capped by a forcefully energetic fugue, Mozart's K387 in G major was wittily embellished by leader Pierre Colombet, whose beaming tone was beautifully contrasted with Gabriel Le Magadure's in their shared material.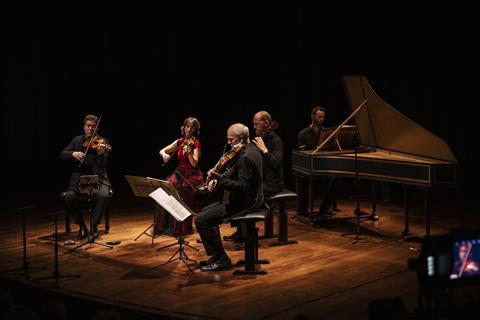 A more intimate hall, seating 150, hosted two noon concerts given by youngish ensembles which were dedicated to Haydn. Their programmes were well chosen to showcase the sheer variety with which the composer was able to fill the traditional forms. The Barcelona-based Cosmos Quartet (founded in 2014) presented sprightly readings of op.33 no.1 in B minor and op.76 no.1 in G major on 15 September. Generous with repeats, they cannily used them to highlight different aspects of the music's motivic–thematic fabric. Their next step should be that they internalise their interpretations to the extent that they can relax and smile, as did their slightly older colleagues of the Aris Quartet (founded in 2009) in their own matinee on 16 September, which included two further works from Haydn's op.76: no.4 in B flat major ('Sunrise') and no.2 in D minor ('Fifths'). The Aris players were mercurially sensitive to the music's harmonic tension, effectively stressing its Sturm und Drang atmosphere.
Later on 15 September, the Atenea Quartet (founded in 2019) was in complete command of the rhythmic complexities in Benet Casablancas's Third String Quartet (2009), while making much of its Bergian quasi-atonal lyricism. The Jerusalem Quartet was at its sensual best ladling out the lushness of Korngold's Second Quartet, while its Mozart (K575) and Dvořák ('American') were too overtly virtuosic, speed and brilliance substituting for substance.
'The Belcea quartet performed at a dizzyingly high level of artistry'
The following evening, the Belcea Quartet presented a potentially run-of-the-mill programme, performing it at such a dizzyingly high level of artistry that it made one listen afresh. Schubert'sQuartettsatz was a thing of heavenly beauty, never more so than during Corina Belcea's high-lying, silver-sounding cantilenas, but with even the disrupting dissonant chords a seemingly inevitable part of it. Shostakovich's String Quartet no.14 was a showcase for cellist Antoine Lederlin but also found the foursome at the top of their game, with some heroic cadenzas from violist Krzysztof Chorzelski and soulful song from all four. Harsh corners remained mercilessly unbeautified, thus increasing the sense of catharsis at the end. Beethoven's 'Rasumovsky' Quartet op.59 no.1 received a monumental yet natural and flexible reading, culminating in a lilting thème russe.
An afternoon concert on 17 September dedicated to contemporary creations constituted a rather demanding listening experience, but I was pleased to make the acquaintance of John Luther Adams'sThe Wind in High Places (2011), with its chilling natural harmonics (handled with aplomb by the Jack Quartet), and Núria Giménez Comas's Bachian deconstruction Von Contrapunctus VI (2018), faithfully decoded by the Maurice Quartet. Music by Xenakis (Tetras) and Scelsi (String Quartet no.4) provided the highlights of the two ensembles' respective sets.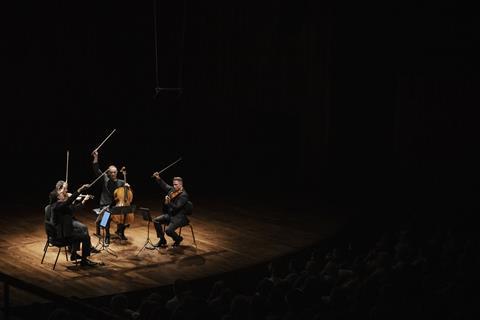 Two Mozart string quintets (K515 in C major, and K516 in G minor) that followed that evening felt like a reward for the previous endurance test, particularly when performed so stylishly by the Quiroga Quartet with Isabel Charisius, whose dark-sounding Storioni was nicely set off by the lighter timbre of Quiroga violist Josep Puchades's Stephan von Baehr instrument. The G minor Quintet's first movement scurried by in 50 shades ofpiano, the first realforte exploding in the coda; conversely, the minuet's off-beat accents were forcefully realised. Each quintet was preceded by a group of Bach fugues as arranged by Mozart, and the encore was second violinist Cibrán Sierra's tasteful transcription of Bach's yearning sonatina from his cantata Actus tragicus BWV106.
On the final evening, the members of the Cosmos Quartet proved themselves excellent advocates of Barcelona composer Octavi Rumbau's First Quartet, specially commissioned and receiving its premiere; therein, Bachian bariolage met microtonalism, all the while propagating a sense of search that reminded one of the meaning of the word ricercare. The Art of Fugue followed most naturally, its canons being taken care of by harpsichordist Benjamin Alard, while the Casals Quartet – with Abel Tomàs in the leader's seat – shaped the piece's contrapuncti with loving care that set all intellectual exertions aside and let the music work its magic. The following farewell party – also a birthday celebration for the Casals Quartet – set the seal on a most successful event that should become a regular fixture of the string quartet world.